Photos From The US Star Trek Premiere Including Chris Pine, Zachary Quinto, Eric Bana, Winona Ryder, Leighton Meester and more
Stars Flock To The US Star Trek Premiere
Star Trek fever hit LA yesterday at the premiere of the new movie, following the UK premiere just over a week ago! The film's stars, including Chris Pine, Eric Bana, Zachary Quinto, Zoe Saldana, Winona Ryder and Leonard Nimoy (in a cameo), showed up for the film, as well as plenty of celebs out to support the movie. Leighton Meester and Sophia Bush wore some inspired dresses, and Heidi Klum posed for photographers doing the famous hand sign! Seth Green, Neil Patrick Harris, Amanda Bynes, Hayden Panettiere, Emma Roberts, Matthew Fox were among the many other stars that attended! Will you go see it?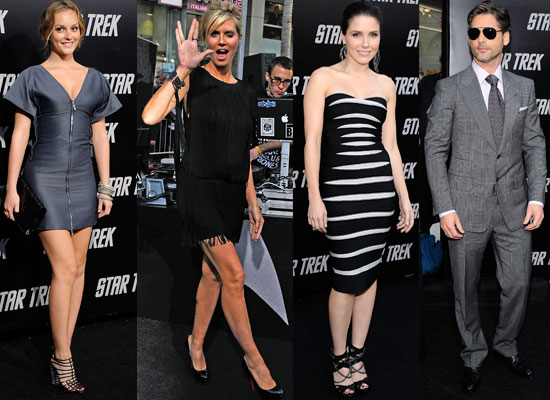 To see many more photos of all the celebs at the Star Trek premiere, just read more.
Images include: Heidi Klum, Winona Ryder, Leonard Nimoy, Amanda Bynes, Rainn Wilson, Chris Pine, Zachary Quinto, Hayden Panettiere, Christian Slater, Eric Bana, Neil Patrick Harris, Simon Pegg, Zoe Saldana, Sophia Bush, Leighton Meester, John Cho, Matthew Fox, Seth Green, Michelle Monaghan, Emma Roberts, Christopher Mintz-Plasse, Zachary Levi, Frankie Muniz.