Photos From The Young Victoria UK Premiere and Afterparty including Emily Blunt, Rupert Friend, Keira Knightley
Emily, Rupert and Beatrice Act Up For The Young Victoria
Emily Blunt shimmered on the red carpet at the premiere for The Young Victoria in London last night, while her costar Rupert Friend attended the premiere afterparty with his girlfriend Keira Knightley. Emily said it's hard to adjust to her rising public profile in anticipation of the movie, saying, "It's weird to see us all over buses. It is very strange for me but this feels like the most rewarding film I've ever been a part of and I'm just glad that people will get to see it now." Sarah Ferguson — who had the original idea for the film and co-produced it — also walked the press line with her daughters Princesses Beatrice and Eugenie.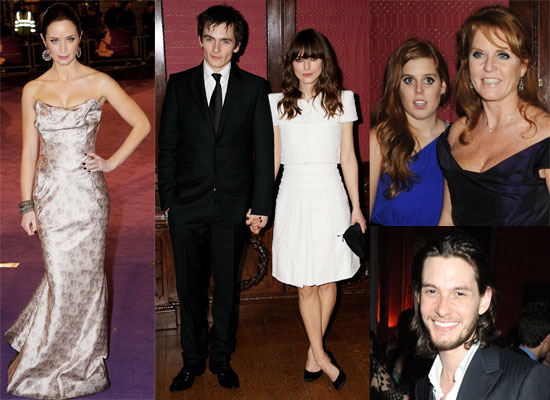 Beatrice has her first acting role in the movie as a non-speaking lady in waiting, and looked striking in a bold blue dress, and Eugenie wore some funky on trend zip back heels. Other castmembers and guests at the afterparty included Miranda Richardson, Jim Broadbent, Ben Barnes and Sir Ben Kingsley.
To see more photos from The Young Victoria premiere and afterparty, just read more.
Images include: Miranda Richardson, Princess Beatrice, Sarah Ferguson, Princess Eugenie, Rupert Friend, Emily Blunt, Keira Knightley, Bill Nighy, Jim Broadbent, Ben Barnes.