Photos Of Gavin Rossdale and Gwen Stefani Playing With Kingston and Zuma At The Park
Gwen and Gavin Have A Playdate at the Park
Gwen Stefani and Gavin Rossdale took Kingston and Zuma to a Beverly Hills park to play on the swings at the weekend, looking relaxed and happy as they hugged and watched their kids. They're making the most of family time as Gavin heads out on tour in April, and Gwen follows shortly after with her No Doubt bandmates in the summer. Speaking about the upcoming tours and the pressures of juggling music with family time, Gavin said: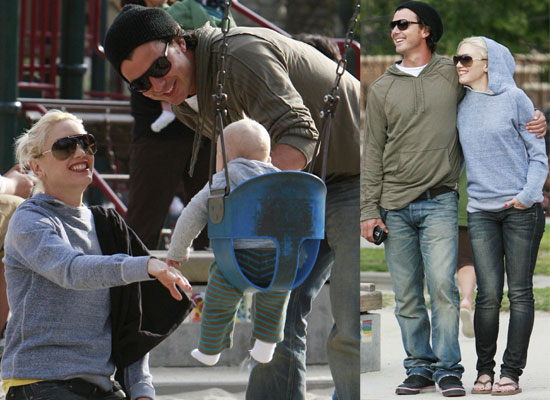 "I love touring. It's going to be challenging, but I like the idea that we're both working and both doing what we love, so that's the way it goes. Anyone who has kids knows about the sacrifices of time you spend with your kids [with] working and different priorities. How do you make it work? Organize the chaos. I'll be taking [Kingston], the baby will probably have to stay with his mum. Needs the milk, you know?"
I can't wait to see the adorable tots on tour with their parents over the spring and summer!
To see more photos of Gwen and Gavin, just read more.