Photos of Gerard Butler in London Confirming He Doesn't Have a Girlfriend, Denying Jennifer Aniston Rumour, Promoting Ugly Truth
Single Gerard Butler Is in London For Sex Comedy
Gerard Butler was on the promotional round in London yesterday, ahead of The Ugly Truth's UK premiere this evening. He appeared on GMTV and presented the weather, as well as confirming that he is not dating Jennifer Aniston. He also told Sky News he is single, and spent the evening at Hakkasan Restaurant, signing autographs for fans. You're evenly split on whether you'll see the film or not, but Gerard is encouraging men to see it, saying: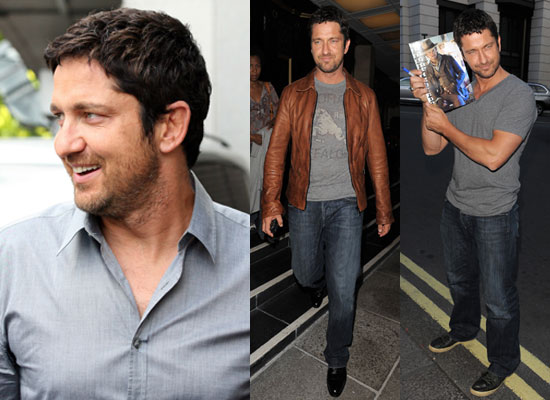 "It is kind of filthy. It does surprise you. I think people expect a typical rom-com, but I think it's more like a sex comedy than a romantic comedy. Not that I have those views. But I have that kind of cheeky charm and that non-pc dialogue. Yeah, that's me."
I'm looking forward to seeing Gerard and Katherine Heigl walk the red carpet tonight!
To see more pictures and watch Gerard presenting the weather, just read more.