Photos of Gordon Brown With Comic Relief Kilimanjaro Climbers Including Cheryl Cole And Gary Barlow at Number 10 Downing Street
Gordon Brown Congratulates Kilimanjaro Climbers at No. 10
Having returned to the UK on Monday after scaling Mount Kilimanjaro, the nine celebrities who took on the trek were treated to tea at Number 10 Downing Street with Gordon Brown and his wife, Sarah. Fearne Cotton, Denise Van Outen, Alesha Dixon, Cheryl Cole, Kimberely Walsh, Chris Moyles, Ronan Keating, Ben Shephard and Gary Barlow have raised more than £1.5 million thanks to their Red Nose Climb, and were rightly full of smiles as they celebrated with Gordon Brown, who didn't wear a red nose himself but did allow a huge one to hang from the front door! Saying: "We are proud of everything that nine great heroes have done", the Prime Minister also backed up his words with action and announced that the government plans to give £2 million to help fight malaria. Gary Barlow was full of excitement, saying: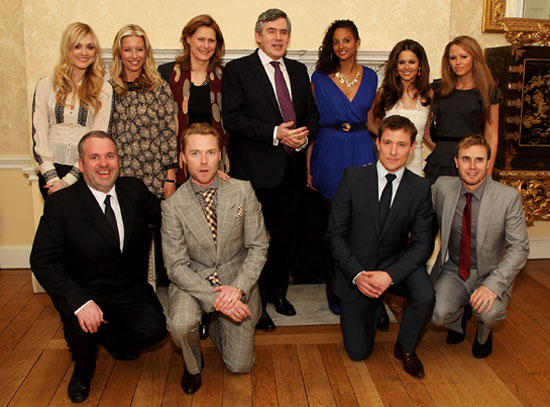 "It has been a privilege for the whole team to meet the Prime Minister ... and under such special circumstances. To think that our efforts on the mountain and the incredible generosity of the public have inspired school children and have now been supported by the Government is unbelievable. If the money raised can help control malaria and also help poor and vulnerable people in the UK, it will all have been worthwhile. What an unforgettable day."
Remember the big TV event starts on BBC1 at 7pm tonight: check out what's in store.
To see more pictures of the gang at Number 10, just read more.