Photos of Helen Mirren, Carey Mulligan, Drew Barrymore, Kate Hudson, Penelope Cruz at SAG Awards 2010 Screen Actors Guild Awards
Stars of the Screen Get Gorgeous on SAG Awards Red Carpet
The red carpet was awash with bright colours at the SAG Awards in Los Angeles on Saturday night. British legend Helen Mirren was joined by one of Britain's rising stars Carey Mulligan, who was one of many women opting for red dresses to match the red carpet. Drew Barrymore went floor-length and fabulous in deep blue, while Penelope Cruz was classic in black and Kate Hudson joined the brigade who wore white. Make sure you vote on all Fab US and Bella US's love it or leave it polls on all the outfits and beauty looks from the starry evening!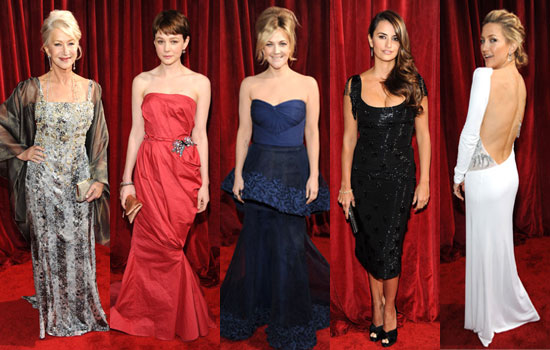 The guys also went all out for the awards ceremony, with Colin Firth doing us Brits proud in his tux. Justin Timberlake mixed things up a bit with a blue shirt, while Adam Lambert accessorised his sharp suit with plenty of guyliner! Several men walked the red carpet with their significant other, and my favoruite couple of the night Joshua Jackson and Diane Kruger looked as gorgeous as ever. Stay tuned for more pictures from the show and press room.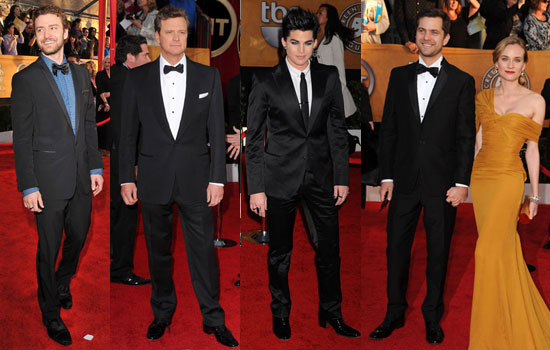 To see loads more from the red carpet, including Cheryl Hines, Anna Kendrick, William and Alec Baldwin, Eli Roth, Mariah Carey, Nick Cannon, Dianna Agron, Anna Paquin, Stephen Moyer, Jeff Bridges, Jessica Lange, Marion Cotillard, Toni Collette, Katrina Bowden, Michelle Monaghan, Mo'Nique, Corey Monteith, Tom Ford, Michael C Hall, Betty White, Christina Applegate, Tina Fey, Jane Krakowski, Julia Louis-Dreyfuss, Gabourey Sidibe, Patricia Arquette, Meryl Streep, Holly Hunter, Kyra Sedgwick, Sandra Bullock, Sofia Vergara, Christine Baranski, Vera Farmiga, Paula Patton, Miranda Cosgrove and Sophia Loren, read more.
Images include: Helen Mirren, Carey Mulligan, Drew Barrymore, Kate Hudson, Penelope Cruz, Colin Firth, Justin Timberlake, Adam Lambert, Joshua Jackson, Diane Kruger, Cheryl Hines, Anna Kendrick, William Baldwin, Alec Baldwin, Eli Roth, Stana Katic, Mariah Carey, Nick Cannon, Dianna Agron, Anna Paquin, Stephen Moyer, Jeff Bridges, Jessica Lange, Marion Cotillard, Toni Collette, Katrina Bowden, Michelle Monaghan, Mo'Nique, Corey Monteith, Tom Ford, Michael C Hall, Betty White, Christina Applegate, Tina Fey, Jane Krakowski, Julia Louis-Dreyfuss, Gabourey Sidibe, Patricia Arquette, Meryl Streep, Holly Hunter, Kyra Sedgwick, Sandra Bullock, Sofia Vergara, Christine Baranski, Vera Farmiga, Paula Patton, Miranda Cosgrove, Sophia Loren