Photos Of Helen Mirren At GMTV, Plus Russell Brand's Comments To Noel Gallagher About Fancying Helen
Helen's Lusted After By Tempest Costar Russell
Helen Mirren was at the GMTV studios this morning, looking gorgeous with her red accessories. On Russell Brand's latest Radio 2 podcast, he told the injured Noel Gallagher that he has a beard for his part in a new adaptation of The Tempest, starring Helen. This being Russell, he then went on to describe his plans to get with her — with Noel's encouragement — saying "I am going to seduce that Queen."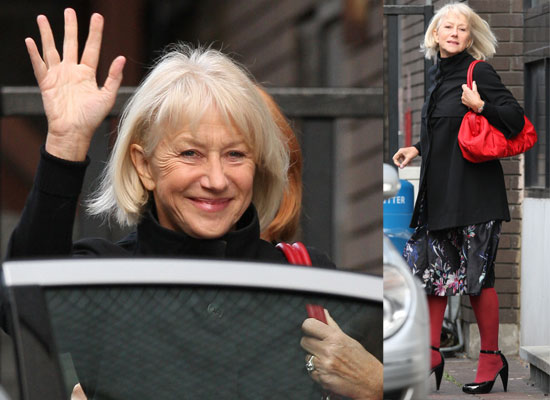 Helen would have heard of Russell's plans following this week's Pride Of Britain awards, when he claimed:
"She is so hot. There's something about her that drives me wild. She's so sexy and enchanting, just look at her form. They're going to have to hold me back when we start work. I'll be all over her. I don't know how I'll get any work done."
Well, when you remember he generally uses his radio show to chat up famous women, I suppose chatting Helen up will be his work. I'm sure he'll reveal all to the nation's airwaves! You can listen to this week's show again here, and hear his comments on Helen for yourself. It's definitely NSFW though!
To see Russell's post-radio show video, featuring Noel, Russell, Sarah Silverman and Katy Perry, just read more