Photos Of House Star Hugh Laurie At LAX, Talking About Stephen Fry's Obsession With Twitter
Why Hugh Won't Be Following Stephen Into Twitter Obsession
Hugh Laurie was spotted at LAX yesterday, managing to walk through the terminal mostly undetected with his rather bushy beard and cap pulled down low over his eyes. Having worked with buddy Stephen Fry for many years, Hugh's been seeing a lot of him at work more recently, thanks to Stephen's guest starring role on Bones, which films in the next studio to Hugh's series House! Hugh's been speaking out about Stephen's obsession with Twitter, and how he doesn't understand it, saying: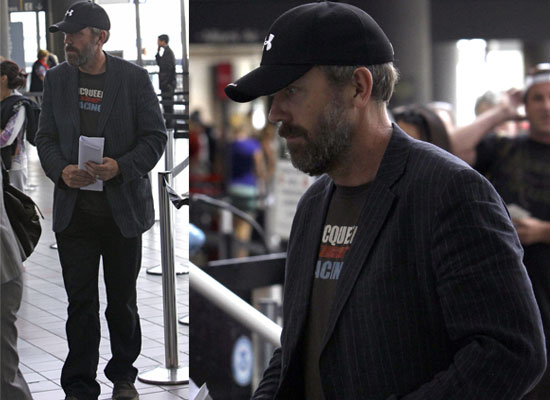 "I think if people were able to take these 140 characters and develop a poetic Western form - a haiku of our own in which all human existence could be compressed into those 140 characters - that would be a satisfying thing, but that's not what I see when I read them."
What do you think — are you with Hugh in wishing that people would elevate their tweets to a higher intellectual level?