Photos Of House Star Hugh Laurie Out Running With His Pet Dog In London, UK
Hugh Laurie Takes His Dog For A Jog
Hugh Laurie was spotted in London over the weekend, keeping his fitness in check by taking a run with his gorgeous pet dog. His TV show House is moving home in the UK, as Sky1 will be airing it from its fifth series which starts this summer on the channel, while Five keeps the rights of the first four seasons. Lets not forget that Hugh's also a published author, and his novel The Gun Seller —a spy spoof was published in the UK in 1996 — has sold more than 100,000 copies in France since its release in February by a little-known new publishing house! But despite his international appeal, Hugh's still not convinced that he's funny — he said: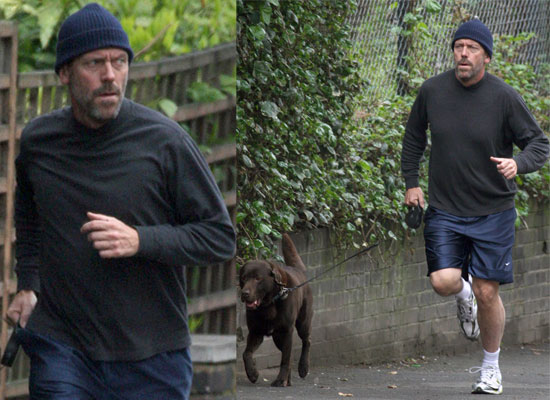 "See, I don't think of myself as funny, I think of myself as rather grave, actually. And I'm suspicious of fun. I never quite know what that is or how to deal with it or how to generate it. That's my fault. I know it's a burden on the people I'm with. It's tiresome... I'm reasonably easygoing. Messing up my lines or making a fool of myself is where you find my fears. Like a lot of English people, I'm prey to embarrassment - the dread that everyone's sort of sniggering at you, that you're going to look like an idiot. I think that sort of halts us all."
We may laugh with him, but not at him right now — good old Hugh's a heartthrob with a worldwide fanbase these days!