Photos of Hugh Jackman Abseiling in London
Abseiling Hugh Jackman Hits London
Hugh Jackman continued his X-Men Origins: Wolverine promotional tour across the world with a stop in London yesterday. Donning shades and a leather jacket he happily signed autographs at the Radio One studios before taking on an abseil in Wapping. Having already pledged $100,000 to charity via Twitter, Hugh once again showed just how generous he is by abseiling down The Sun's building to raise money for the Help 4 Heroes charity. Hugh, whose parents were born in England, has family connections with the British Armed Forces, saying: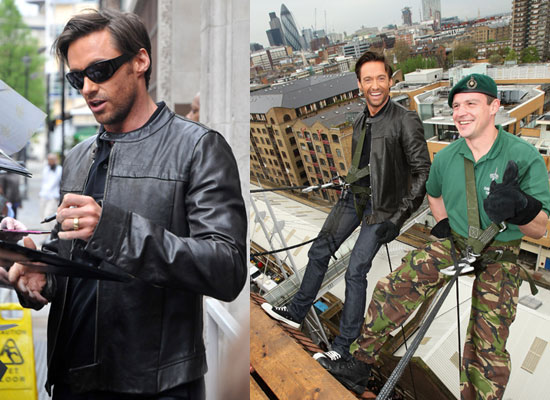 "My sister Rowan was in the Army. She was in the British Intelligence. She served in Iraq for six to nine months, so it was close to home. In typical army fashion, she wouldn't reveal too much. I suspected there were some very tough experiences, but she didn't talk about that a great deal... My dad was a boxing champ in the British Army. I think that was National Service. I did the cadets at school and that was it for me."
It's great to see Hugh showing such generosity of time and money.
To see more pictures of Hugh's abseil, just read more.