Photos of Injured David Beckham on Crutches Leaving His Milan Hotel To Fly to Finland For Surgery, His World Cup Dreams Over
Devastated David Beckham Leaves His Milan Hotel on Crutches
Following his heartbreaking injury yesterday, David Beckham left his Milan hotel on crutches today to fly to Finland to see a specialist for an operation on his ruptured Achilles tendon. He waved as he drove past fans and photographers with a pensive expression on his grazed face. His focus will now shift away from the possibility of playing in the World Cup and on to recovery before perhaps rejoining LA Galaxy in the late summer if all goes well. The official statement on his website reads: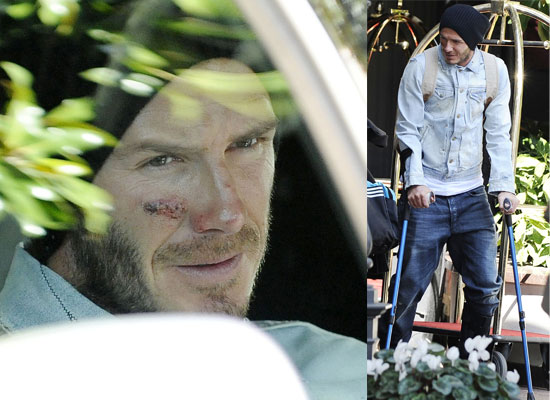 "David is on his way to Finland to see a specialist and have a scan on the injury. He is understandably upset but wants to thank everyone for their messages of support. He hopes to make a swift and full recovery."
Will you miss David in the World Cup?