Photos And Interview Excerpts From Emma Watson In May 2009's Interview Magazine, Talking About Harry Potter, University And More
Emma Watson Talks Wishbones, Work & Wet T-Shirt Contests
As FabUK showed you yesterday, Emma Watson is the cover star of May's Interview Magazine, looking flawless in the close-up shots that grace the pages — taken by Nick Knight — and stylish in the black and white images inside the magazine. Journalist Derek Blasberg conducts a lively interview with the newly nineteen year old star of the Harry Potter movies, and talks to Emma about her study hopes for the future, whether she'll continue to act after the series of movies is complete and her friendships with Daniel Radcliffe and Rupert Grint as well as much more. Here are some extracts: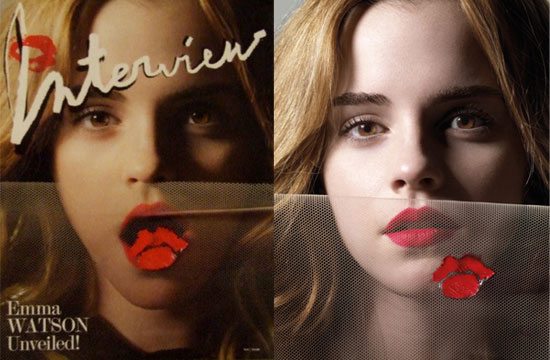 On wanting the part of Hermione: "I loved the books—I was a massive fan. I just felt like that part belonged to me. I know that sounds crazy, but from that first audition, I always knew. At the beginning, they were casting the other characters as well — but I always knew I was going out for Hermione. She came so naturally to me. Maybe so much of myself at the time was similar to her. Of course, all this terrified my parents—there were literally thousands and thousands of girls going out for the audition, and my parents were anxious about what I would do if I didn't get it. They were trying to make me stay realistic—but I wasn't having any of it. I was going to get that part. This is a sweet thing: My dad did a roast on a Sunday, and he gave me the wishbone, and I obviously made the wish that I would get this role. I still have that wishbone upstairs in my jewellery box."
On criticism after she expressed being unsure about acting as a career after HP: "Ha! I was a little bit shocked by people's responses, too. Maybe it's because, at the moment, there are so many people who want to be famous, so how could I not want this? Or, how could I not want to keep it forever? But I guess I just want to be sure it's what I want. I was so young, and I don't think I really knew the greatness of what I was signing on for. I really want to study. I would love to try theater. I need to try stuff out. But I say all this now—I'm sure I'll still be here in 10 years, making Harry Potter 30."
To read more from Emma on juggling Uni and filming, her trip to Mexico and to get a closer look at some more of the images that accompany the article, just read more.
On trying to juggle University and filming: "At the moment, we're there at about 6:30 a.m., which means I'm picked up at about 5:45 a.m. We're filming both the seventh and eighth movies at once, and I'm trying to do all of my scenes now and through the summer so I'll be available for university come September—though it already looks like I'll be working on Christmas and March breaks."
On Daniel Radcliffe and Rupert Grint: "In the last book, they've left Hogwarts, and they're traveling around together. It feels right that it started with the three of us and it's ending with the three of us. It's about our friendship. To be honest, we see so much of each other when we're working that hanging out together would be overload. I love them, but I need to see other friends off set. They're like my siblings now... We're three different people, too. We will always be very important to each other. But, at the same time, after eight Harry Potter films, we'll be ready to go and do other things, and be other people, and have time for ourselves."
On the last day of shooting: "I can't [think about it]. I will be . . . uncontrollable. It's been half of our lives. It's made us, it's formed us. It's such a big part of my life, so it will be really sad—and so much of the crew who have been there since the beginning are like my family."
On her possible choice of an American uni: "I never thought that I would want to go to America for university. As a child, I aspired to go to Oxbridge, because that's where my parents went. When my dad talks about his time there, he says it was the most incredible experience. Well, I did a Shakespeare course at RADA last summer, and three quarters of the students were from abroad, mainly the United States. I started talking to them about what they were doing at their schools, and I respected the approach. Here, I feel the specification is very narrow, whereas in America, you're encouraged to be broad and choose many different subjects. For someone who has missed as much school as I have, I want to go back and discover what else there is. I always loved school—I was a proper, proper nerd. I just want that back again."
On her trip to Mexico: "I went because I wanted to travel and I had heard such great things about the country...."
Derek: "A young girl in Mexico means spring break! Cancún, baby! Tequila shots at Señor Frogs!"
Emma: "That was the weirdest place ever. In Cancún, I felt like I had walked into an American teen movie. I was only there for two days—thankfully my friends and I were more interested in traveling around other parts of the country. But I seriously thought it was only like that in movies."
Derek: "When I was in high school, we went to Mexico for spring break, and it was surreal. Like, school nerds entering wet-T-shirt contests, and high-school jocks screwing the secretly slutty goth theater girls."
Emma: "It's so exciting."
Derek: "This is what you missed while you were doing Harry Potter, Emma."
Emma: "I know. I feel so deprived. But Cancún was certainly not my favorite. We went to Ixtapa, where the ruins are. It was a beautiful, chilled-out part of the country. We went to Mexico City, which was amazing, but quite dangerous. We were happy to get out of there in the end. And we went to Cuba—I would tell everyone to go to Cuba now, because in 10 years it will be completely different."
You can read the full interview in the May issue of Interview magazine!