Photos and Interviews With New Moon Taylor Lautner About Doing His Own Stunts, Getting Inside Bella and Playing Football
PopSugarUK Meets The New Moon Cast Part Four: Taylor on Stunts, Hobbies, Fans and Playing a Female Part!
Taylor Lautner took a break from all those smart suits he's been wearing for premieres and TV appearances and benefit screenings, and wore a casual stripy top and jeans for dinner at BLT in New York City last night. I was lucky enough to meet Taylor when he was in London last week for the New Moon press conference and UK fan event and he revealed all about stunts, hobbies and taking on a female role! Check out all of the gossip from Taylor, Robert and Kristen in my series of interviews and read on to find out more from Jacob Black himself.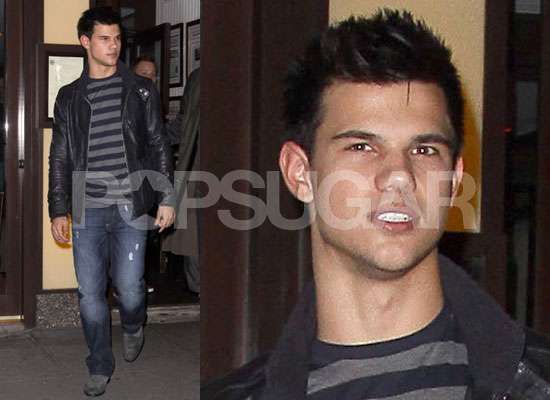 On doing his own stunt work for the film:
Taylor: "The stunt work was a lot of fun. I was really glad that I had the opportunity to do a lot more physical stuff. I'd never ridden a dirt bike before so that was kind of scary at first. I had to go through some training so I could make the five seconds of me on the dirt bike look cool. There was a lot of sequences and Chris was really open to some random ideas."
Director Chris Weitz: "I was scared! Taylor does everything he can to endanger his life physically while shooting a movie. Frankly I was just closing my eyes and praying."
Taylor: "He was very supportive." [laughs]
Chris: "The only thing that he didn't do was what the insurance company refused to allow him to do."
To find out what Taylor had to say about how he spends his downtime, how he feels about the fans, and his interest in playing a female character, just read more.


On whether martial arts is still his major hobby:
"It used to be. I haven't done it in a long time. I would definitely be rusty."
On what he does in his downtime now:
"It's hard to tell because we haven't had much of it in a while, but I do like playing football. And just spending time with the family and friends."
On whether the fan support still surprises him:
"I guess after Twilight we expect anything, but it's still a constant surprise to me. I'm always surprised by the fan reactions and the amount of fan support we have behind us, just because none of us expected it when we were filming Twilight. Coming into New Moon it was a little different feeling, but yeah it's great to know we have that kind of support behind us."
On which other character from the saga they would play:
Kristen: "I would love to play Alice. She has my favourite back story of all the Cullens and I would love to play around with her power. I would love to have the visions, I think it's really interesting."
Robert: [looks at Taylor] "I've always wanted your part, even when we're doing scenes together." [laughs]
Taylor: "Is Bella an option? [laughter] I would actually love to get inside Bella's... mind! There's a lot of weird things going on in there and I would love to experience that."
Taylor dressed as Bella is something I would love to see! He also told me all about how he got his hot body through exercise and an extreme eating regime, and chatted with Molly too. Remember to read all my cast interviews and check out my review of the film.