Photos of Jade Goody at Hospital as Jack Apologies For His Behaviour and Max Clifford Comments on Media Coverage
Jack Apologises to Jade, Who Only Has "Short Time to Live"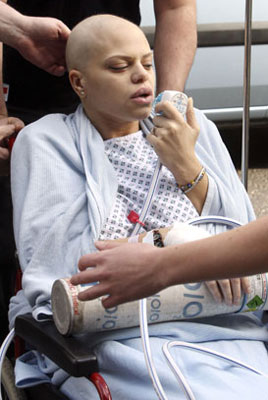 Following her bowel operation earlier this week, Jade Goody is surrounded by loved ones and has reportedly said her goodbyes with Max Clifford saying "she now only has a short time to live".
After being convicted of assault, Jack broke his curfew on compassionate grounds and spent Tuesday night by Jade's side, comforting her and apologising. He said:
"I just wish I could be there all the time. I told her I'm so sorry for my behaviour in the past. It's meant I haven't been there for her the whole time. I told her I've let everyone down but have learned my lesson. And I said I'm worried that, once again, I won't be there for her and the family when they really need me. I just want to be with her as much as I can."
Max Clifford has commented on the media coverage and his role in Jade's decisions, saying:
"My attitude to Jade in recent times is: 'Don't you think enough is enough? Don't you think you've got the message out there? The money that you wanted for the boys we've done, we've made, it's in place, the money is assured' [...] The reality is there is a balance because there's huge public interest and an appetite and support for Jade, which is reflected by the fact that it's front page news virtually every day. So much of it has got to be guided by her because it's her life and it's for her to decide. But of course if she's not well enough to make that decision then I will make that decision for her automatically."
Our thoughts are with Jade and her family during this heartbreaking time.
Martin Leaver/Leon McGowran/David Boyes/BigPicturesPhoto.com