Photos of Jade Goody and Jack Tweed Leaving Their Wedding
Jade Goody Smiles Through the Tears as She Says Goodbye
After their wedding on Sunday, a tearful yet smiling Jade Goody and husband Jack Tweed left the venue yesterday and returned home. An exhausted Jade spent most of Monday in bed, with her mum Jackiey saying: "She's very tired. The wedding day was fantastic, but it has worn her out". Although Jade and Jack were able to spend their wedding night together thanks to Jack Straw, the newlyweds had to be separated yesterday evening as Jack had to return to his mum's house as part of his bail conditions. In a poignant interview with OK!, whose exclusive coverage of the wedding is out today, Jade said: "I've had the happiest day of my life. Now I'm ready to go to heaven." Jade also spoke about sessions with a spiritual healer: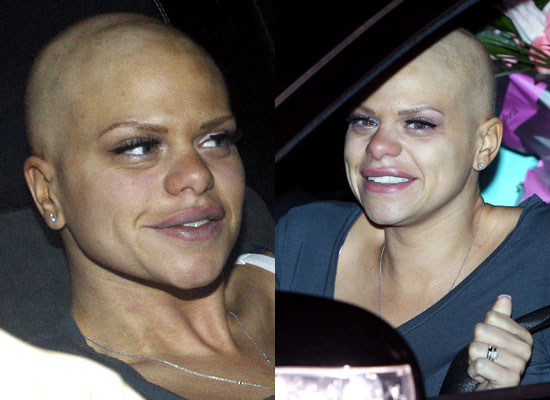 "I really believe his treatment helped me. He placed his hands all over me, it was relaxing. As soon as he left, I went to the toilet for the first time since my op. And I can continue with my treatment now we know my bowel is working."
To find out Jade's plans for her children's Christenings, and to see more pictures of Jade plus photos of Jack, just read more.
Jade talked about religion, too, saying: "I'm still reading my Bible. I take a lot of comfort from it, which is why I decided to get the boys Christened. I want them to know I'll be in Heaven watching over them. I've been trying to explain that Heaven is a good place." Preparations are now being made for Bobby and Freddie's Christenings, which will take place next week in a low-key ceremony with 50 family and friends. I hope Jade manages to get some rest now.
Nick Banks/ Rob Morrison/Antonio Surace/James Jenkins/BigPicturesPhoto.com