Photos of Jade Goody as News Breaks That She Cannot Spend Wedding Night With Jack Tweed Because of Bail Curfew
Jade Goody Still Smiles Despite Jack's Wedding Night Curfew
Jade Goody still managed a smile while out with shopping her friend Kevin Adams yesterday, as news broke that she will not be able to spend her wedding night with Jack Tweed. Since leaving prison Jack wears a tag and has to return to his mum's house by 7pm, but his application to waive the curfew for his wedding night has been rejected by a prison governor. After Gordon Brown's tribute to Jade earlier in the week, the couple might contact the Prime Minister to intervene. Shilpa Shetty has also spoken out in support of Jade, telling ITV News: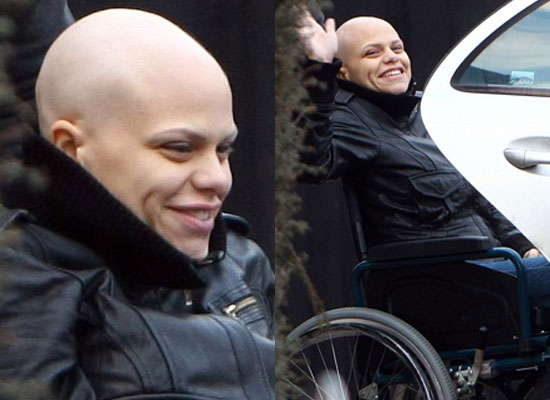 "I buried the hatchet a very long time ago, not because I'd heard about her being diagnosed with cancer. I'd repeatedly told people my feelings and I really didn't want to have any ill feelings against her. It's really sad to know that her health is deteriorating and I really want people to forget the past and I really want them to pray and send her good wishes because that's something that will give her energy. I really want all the positive things to be affecting her at this point."
Shilpa was invited to the wedding but is filming in Bombay so cannot make it, but added: "If I was in London I would definitely have been there to show her my solidarity".
To find out more details about the wedding, just read more.
Jade has immersed herself in wedding planning, and her publicist Max Clifford said: "She's enjoying all of this planning and it takes her mind off things. She has plenty to look forward to and focus on and is very excited about it all." The 300 guests will eat whelks, mussels, jellied eels, pie and mash and fish and chips, and be treated to 300 bottles of Malibu, champagne and vodka. The service will be conducted by Bishop Jonathan Blake, and Girls Aloud might perform. It sounds like Jade will have the beautiful day she so deserves.