Photos of Jade Goody's Wedding Dress
Jade Tries on Dress Ahead of Televised Weekend Wedding
Yesterday a tearful yet "giggling" Jade Goody tried on her wedding dress and told her mum: "This is my dream, and this is my dream dress". Mohamed al Fayed arranged for his gift to be delivered from Harrods to Jade's bedside at Royal Marsden Hospital, while Jack was fitted for his suit at a tailor in Soho. Their wedding on Sunday will take place at Down Hall country manor in Essex, and Jade will reportedly receive £1.5million from OK!'s magazine and Living TV's documentary coverage of the ceremony. Jade's public battle with cervical cancer has raised awareness amongst women, with a spokesman for Cancer Research saying: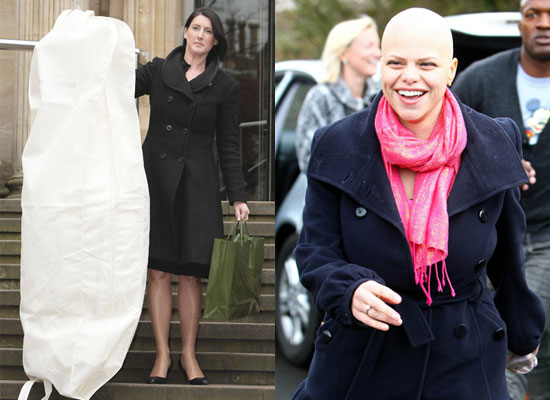 "In response to Jade being back in the news this week, we've seen the number of cervical cancer pages viewed increase to around 20,000 - ten times the average. By raising awareness for cervical cancer Jade Goody's plight could save thousands of lives by encouraging more young women to have a smear test."
Jade's shown such bravery during her illness, and her willingness to go public with the details will make a huge difference to the number of women getting checked. Take a look at my slideshow of Jade's life in the public eye and celebrate her courage.
Paul Chesterton/Jason Green/David Boyes/BigPicturesPhoto.com