Photos of Jade Goody Who Has Married Jack Tweed
Jade And Jack Are Married!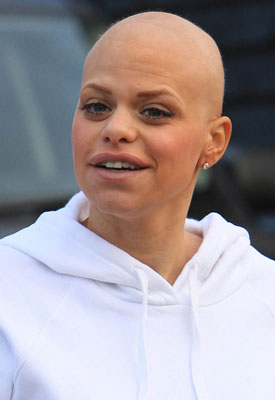 As expected, Jade Goody married Jack Tweed at Down Hall Country House Hotel in Essex today, in front of 200 guests, a Living TV film crew and OK! magazine.
Her publicist, Max Clifford, said Jade was able to stand for most of the 45-minute service, and added:
"It started at 12.45pm so I suppose she kept him waiting for about 45 minutes, but that's her prerogative I'm told. It was lovely. The chapel was absolutely beautiful and I imagine there must be close to 200 people there. When they came out having signed the register they got a standing ovation from everybody there. It was just a very heart-rending, happy ceremony with lots of tears and lots of smiles and lots of laughter."
Max added:
"It was just a very beautiful, very moving service. (The couple are) obviously very much in love, which the bishop commented on. They were very happy to be there and get married. I think it's a huge relief that she was able to handle it the way she did, because obviously it's been a worry to her."
To find out what else Max Clifford said, just read more.
Jade and Jack will now be spending their wedding night together, after Justice Secretary Jack Straw stepped in and waived Jack Tweed's curfew from 7pm this evening to 3pm tomorrow, following the original rejection of Jack's application.
Max commented on Jade and Jack's plans, saying:
"This is their one night together. It might be their only night together. They'll be spending the night together here, compliments of Jack Straw. We're very grateful to him for that. I know that both Jade and Jack are thrilled that they can spend the one night together. Then probably she'll go home at some point tomorrow."
It's so wonderful that Jade was able to have her dream day. I'll bring you more photos and details from the wedding tomorrow morning, so stay tuned!