Photos of Jade Goody Who Has Postponed Her Christening
Jade Goody Postpones Christening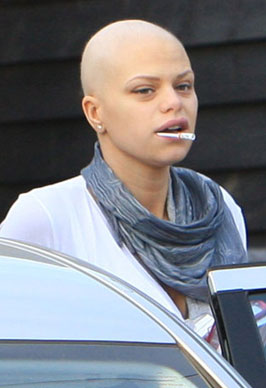 Jade Goody has had to postpone the Christenings she had planned for tomorrow because she is too weak to leave the hospital. Jade had hoped to be Christened along with her sons at a church ceremony on Saturday, but is "too frail" to attend, so the services might be held at her home in Essex instead, or even at the Royal Marsden Hospital. A source close to the family told The Mirror:
"Jade wanted a church ceremony followed by a big reception for 50 guests back at her house. We hoped Jade would say, 'OK, let's do it on Saturday', but all she wants to do is sleep and rest and everyone is giving her space. If she rallies a little bit they may be able to do it in the next couple of weeks."
Jade is sedated and sleepy since her operation on Monday, but Max Clifford reports she is "slightly better" although still seriously ill. She is now considering being baptised in her hospital bed. Our thoughts continue to go out to Jade and her family.