Photos of Jade Goody Who Vows to Walk Down the Aisle in Church Wedding With Jack Tweed on Sunday
Jade Goody Vows to Walk Down the Aisle in Church Wedding
Jade Goody is determined to have the strength to walk down the aisle in a church away from the hospital when she marries Jack Tweed on Sunday. It looked like Jade and Jack would have to marry in the chapel of the Royal Marsden Hospital where she has been treated for cancer, and that she may need a wheelchair, but Jade has said: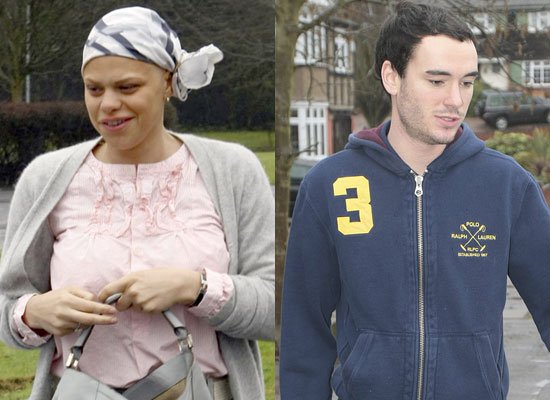 "I am going to die in this hospital, so I don't want to get married here. But wherever we tie the knot, I'm determined to walk down that aisle. I've lost my balance and the doctors aren't sure if it's a sign that the cancer has spread to the brain or if it's just weakness. But I'm hoping I will have the strength to walk on my big day. It would be so cruel to be robbed of that one last thing as well."
Jack proposed to Jade at her hospital bedside on Friday, after doctors gave her the heartbreaking news that she only has months to live. Then at the weekend, Jack took Jade out in her wheelchair to a spot beside the Thames so that he could get down on one knee and officially ask her to marry him. The couple exchanged matching rings by the riverside.
To find out more about Jade's wedding plans, just read more.
Jade pleaded with her doctors about her wedding day, saying: "I will be walking down the aisle on my wedding day. Please help me do that." She added: "I'm so looking forward to being a bride. And I want to walk toward my groom, just like any other young woman would on what is meant to be the best day of their lives."
Mohamed al Fayed has given Jade a £3,500 cream and ivory Uranio wedding dress from Manuel Mota's Pronovias 2009 collection as a gift from Harrods. Jade has asked the Living TV producer who has been involved with filming her illness to be her bridesmaid. She is being so brave, and she deserves a beautiful ceremony on Sunday.