Photos Of James McAvoy At The Apollo Theatre For Three Days Of Rain
It Looks Like Rain For James
James McAvoy showed up to the Apollo Theatre in London at the weekend, his bike helmet in his hand and posing for photographers before he entered the venue. James is currently starring alongside ex-Eastender Nigel Harman in the play Three Days Of Rain in the West End, and those two rather handsome men are more than enough to get me interested in seeing it — how about you? Read on for a little more plot info, but if you want to catch a glimpse of James on the stage you might want to book tickets sooner rather than later, as the play runs for a limited time only — until May 2nd!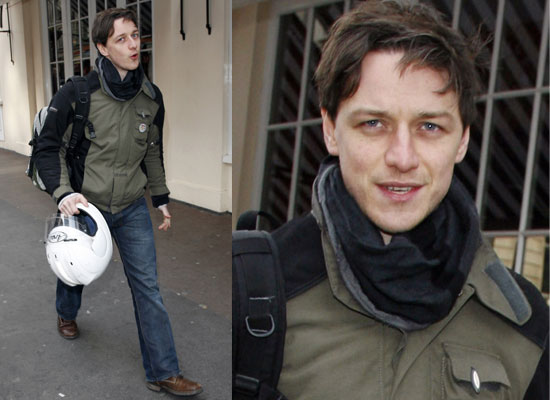 For a little more plot information, just read more.
Here's a little more plot info: it "explores the secrets passed from one generation to the next. When two architecture partners die, they leave their children the mysterious legacy of a house they designed. The past, including an inexplicable diary entry containing the words 'three days of rain', is delved and re-interpreted until the audience is taken back to the earlier generation (played by the same three actors) to discover the truth." Mysterious! Will you be seeing it?