Photos of Jamie Oliver at Radio 2 in London Where He Pledged Millions of His Own Money To Help Children Eat Healthy Food
Jamie Oliver Pledges His Own Money to Improve School Food
Jamie Oliver has said he'll put millions of pounds of his own money aside over a decade to help improve menus at schools across the UK. He was at Radio 2 studios yesterday in his familiar uniform of a checked shirt and cap to talk about his plans after news broke that he's on the Sunday Times Rich List, and also at number 22 in the Giving List which shows the most charitable Brits. Jamie's hoping to help out 1000 of the nations approximately 20,000 primary schools, and hopes that his scheme — which is at a very early stage — will help to change governmental policy. He said: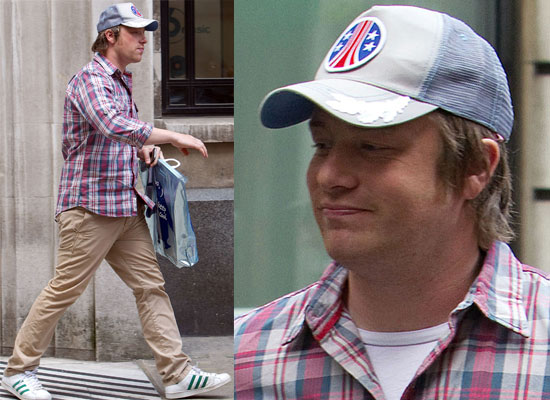 "Probably what I am going to do over the next 10 to 15 years is literally have a percentage of profits from every single company that I have which hives cash down... [to create] a mechanism of food that the schools can bid for. If, in terms of parents and teachers, they can put all their ducks in a row then literally hundreds of thousands of pounds will be spent on that school. It will build gardens, build school kitchens, give them seeds and fruit trees as well as teaching collateral including web sites, DVDs and conferences."
What do you think of Jamie's ambitious and charitable plans?