Photos of Jedward on The X Factor Tour in Dublin as News Breaks They Have Been Dropped by Sony Lost Their Record Deal
Are You Disappointed Jedward Lost Their Record Deal?
John and Edward Grimes were back in their home town of Dublin yesterday ahead of St Patrick's Day as The X Factor tour made its way to Ireland. The twins still smiled despite the bad news they have been dropped by Sony, following the release of just one single "Under Pressure (Ice Ice Baby)" with Vanilla Ice, which majority of you liked. Jedward's mentor and now manager Louis Walsh confirmed the news and showed his continued support, saying: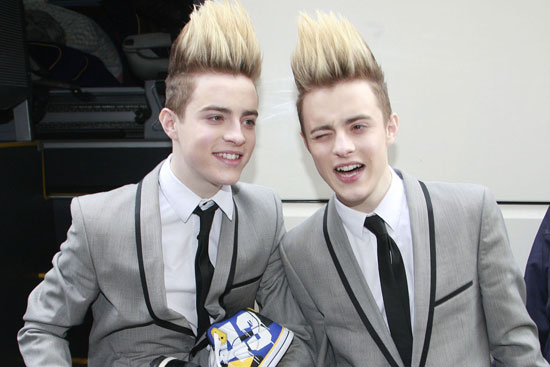 "I'm completely committed to Jedward and I know they still have a great career ahead of them. The boys have a sell-out tour in Ireland that they start straight after The X Factor Tour in April and I am in talks with a major record label about a new deal for them."
I'd love to know your view, so tell me: are you disappointed they lost their record deal?
UPDATE: Sony may have dropped Jedward, but just 24 hours later Universal have picked them up. Looks like they're not gone for good, after all!