Photos Of Jennifer Connelly On Cover Of InStyle Magazine
Jennifer Connelly Creates Great Height In Style
Jennifer Connelly stars on the cover of InStyle's October issue, looking rather stunning in silver. While she dressed down in a t-shirt, jeans and biker boots for her interview, by the time she was in front of the cameras she was glammed up in head to toe Balenciaga — check out those scarily high wedges! She talked to the magazine about living in New York with her hubby Paul Bettany and their children, and also about her new movie Creation which she costars in with Paul — will you see it or skip it?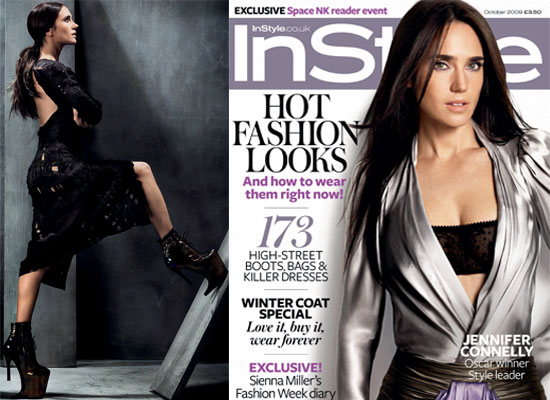 On Paul: "He is a really good person — he is funny, he's smart and he's kind. He will surrender without vanity or ego to the story, which I really admire."
On how their relationship helped their roles in Creation: "Darwin [Paul] and his wife Emma [Jennifer] knew each other since childhood. They were first cousins, so the relationship I have with Paul and our degree of intimacy supported the ease and comfort our characters have with each other."
To read the rest of the interview pick up the new issue of InStyle.