Photos of Jim Carrey, Colin Firth and X Factor Contestants at Christmas Carol Premiere, Plus London Christmas Lights Switch On
Christmas Comes Early to London With Premiere and Lights
Stars of A Christmas Carol Jim Carrey, Colin Firth and Bob Hoskins literally lit up London last night at the world premiere of the film, which they combined with turning on the capital's Christmas lights! They were joined by Jenny McCarthy in a Holiday season appropriate red coat, as well as The Saturdays and The X Factor contestants, who were more popular than the film stars! Olly Murs, Joe McElderry, Danyl Johnson, Jamie Archer, Lloyd Daniels and John and Edward Grimes looked smart in their suits, while Stacey Solomon and Lucie Jones looked lovely in their frocks: FabUK has the lowdown on how to copy Lucie's style.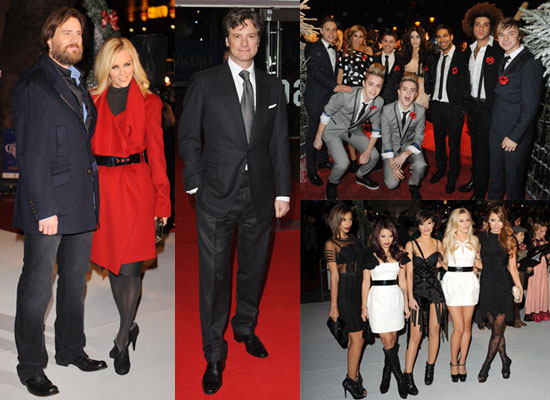 Jim Carrey also switched on Oxford Street's Christmas lights with Jason Donovan, and Peter Andre, The Saturdays and Taio Cruz performed for the crowds. Over at Regent Street, Colin Firth turned on the lights while Oliver!'s Jodie Pregner, the Noisettes and Daniel Merriweather took to the stage. Bob Hoskins did the honours over at St Paul's Cathedral, and was joined on stage by Little Boots, Faryl Smith and Spandau Ballet. Andrea Bocelli then led crowds to try to break the record for the world's biggest carol singing event. What a fun evening! Check out more pictures of the premiere and the lights plus the trailer for the festive film after the jump.
To see the trailer for the movie plus LOADS more pictures from the premiere and lights switch on, including Taio Cruz, Daniel Merriweather, Andrea Bocelli, Shingai Shoniwa, Jodie Pregner, Spandau Ballet, Joe Calzaghe, Kristina Rihanoff, Phil Tufnell, Konnie Huq, Livia Giuggioli, Nicola McLean, Chantelle Houghton and Faryl Smith, just read more.
Images include: Jenny McCarthy, Jim Carrey, Colin Firth, Olly Murs, Stacey Solomon, Joseph McElderry, Lucie Jones, Danyl Johnson, Jamie Archer, Lloyd Daniels, John Grimes, Edward Grimes, Peter Andre, Jason Donovan, The Saturdays, Taio Cruz, Daniel Merriweather, Andrea Bocelli, Shingai Shoniwa, Jodie Pregner, Bob Hoskins, Spandau Ballet, Faryl Smith, Joe Calzaghe, Kristina Rihanoff, Phil Tufnell, Konnie Huq, Little Boots, Nicola McLean, Chantelle Houghton, Livia Giuggioli, Faryl Smith