Photos of Joe Cole and Carly Zucker's Baby Girl Daughter Pictures
Joe Cole and Carly Zucker Welcome a Daughter!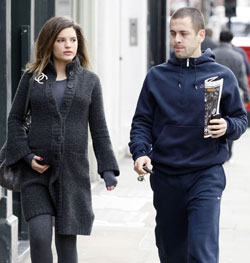 Joe Cole and Carly Zucker welcomed a daughter to the world on Thursday evening, following a 16 hour labour. A source said: "They originally planned on calling their daughter Scarlet but because she looked so much like Joe they are reconsidering".
The couple married in June and announced the pregnancy in September. Carly is amongst a number of first time mums who are due soon. I wonder whose baby we will meet next?
Congratulations to Joe and Carly!