Photos of Joe Cole and Carly Zucker Wedding Pictures in Hello Magazine Plus Quotes
Joe Cole and Carly Zucker Share Wedding Secrets and Photos
Joe Cole and Carly Zucker shared their wedding pictures and stories from the big day with Hello! magazine. The couple got married at Royal Hospital Chelsea at the weekend in front of family, friends and Joe's fellow footballers John Terry, Michael Carrick and Wayne Bridge. Carly shook off her Australian jungle style in favour of an Oscar de la Renta dress, and told Hello! how she influenced Joe's choice of a longer hairstyle! Here are the highlights: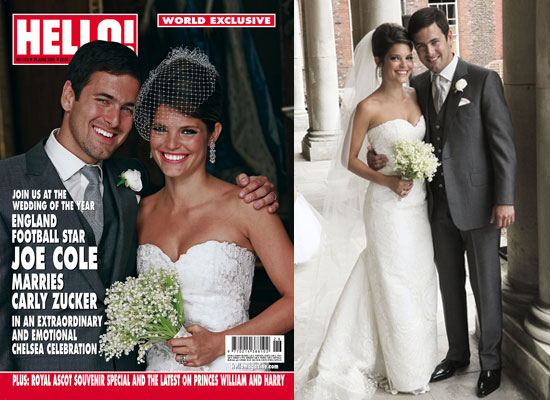 Joe on his hair for the wedding: "I like it really short myself, so after the wedding I will be having my head shaved."
Joe on the location of the ceremony: "I play for Chelsea, we live in Chelsea – so it made sense to get married here."
Joe on what's important to him: "Marriage is important, children and family they are the main things in life. All I am interested in is being a good husband, a good son, a good friend and a good father one day."
Carly on being a WAG: "I am offered projects all the time, but I don't feel I need to prove anything, or that I need a career to feel good about myself. I tried it before with the personal training as well as running the house, and it just made me stressed and unhappy. It wasn't good for me and it wasn't good for Joe and his football. I am lucky enough to be in a position where I don't have to work."
To find out what the couple had to say about their wedding rings and the ceremony, read more.


Joe on Carly: "I have always said Carly is the most beautiful girl I have ever seen, but even I was surprised by how unbelievably stunning she looked. She was more beautiful than I have ever seen her."
Carly on giggling during the ceremony: "I am not a very serious person and it all felt a bit out of character."
Joe on his wedding ring: "I don't generally wear jewellery so I wanted a ring that would mean something, so I have had my Nan's plain gold wedding band altered to fit my finger. My Nan Pat died about four years ago of cancer. I was incredibly close to her and she lived with us after my granddad died. She loved football and was a great motivation to me – as was all my family. She saw me play for England but I wish she had been around for the last five years when I have been at the top of my game. It will mean a lot to have her wedding ring on my finger when I am getting married."
It sounds like Joe and Carly had a magical day, and I'm sure their honeymoon will live up to other WAGs' special holidays. Read the full interview in Hello! out today.