Photos of Jools and Jamie Oliver Who Welcome Third Daughter Petal Blossom Rainbow
Jamie Oliver Welcomes Third Daughter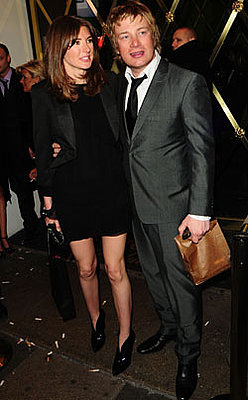 Jamie and Jools Oliver welcomed their third daughter in the early hours of this morning. Petal Blossom Rainbow joins big sisters Daisy Boo and Poppy Honey.
Their spokesman said:
"Jamie and Jools Oliver are delighted to announce the arrival of Petal Blossom Rainbow this morning at 2.46am. Petal was born at the Portland Hospital in Central London, weighed in at 6lb 10oz and both she and Jools are doing well. The Olivers would like to thank midwives Linda Ordish and Elaine Porter and also obstetrician William Dennis for their wonderful help and support... Jamie and Jools are both completely smitten with Petal already and Jamie is looking forward to two weeks paternity leave to spend quality time with his four beautiful girls."
Jools was due on Wednesday, but fortunately she was late so Jamie could be by her side. He was at Downing Street on her due date, cooking for the G20 leaders. Jamie spoke with Ryan Seacrest yesterday during the American Idol host's breakfast radio show in LA, and said:
"We're talking about the most stressful 46 hours of my life I think. My wife was due yesterday - actually on the day that we did the big dinner for Barack and the other 20 leaders of the world - but luckily it didn't happen yesterday. But she's got high blood pressure so she's being induced as we speak."
Congratulations to the growing family!