Photos of Jordan Kate Price and Alex Reid in London, Alex Defends Bad Mother Allegations After Princess Wearing Makeup Pictures
Alex Reid Defends Katie Price After Bad Mother Accusations
Katie Price and Alex Reid were together again in London last night, arriving at their hotel after an evening out. Alex's new found fame has brought his previous TV appearances to the surface, one of which was a past life regression where he apparently discovered he had been a British spy in Nazi Germany. Kate received criticism from ex Peter Andre after photos of Princess wearing makeup were posted on the internet, but her new husband has been quick to leap to her defense. In his Star magazine column Alex defended Kate, saying: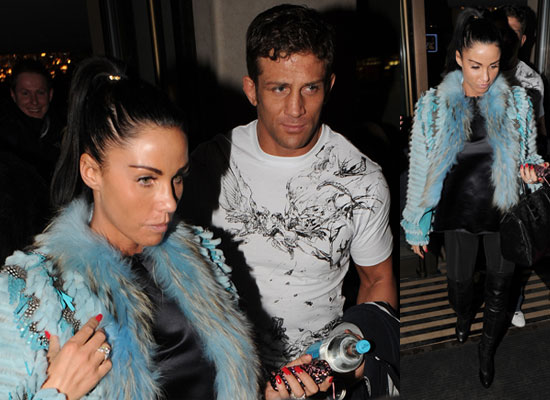 "The accusations that Kate isn't a good mum because she let Princess try on her false eyelashes and straighten her hair made me feel really angry... Princess was just sat on Kate's lap and said she wished she could have eyes like mummy, and so they just put false lashes on her for a few minutes. It was a joke. It was disappointing that Pete called it 'disgusting' in a magazine interview. The whole thing ended up being taken totally out of context and it annoyed me because people then started coming out and criticising Kate's parenting skills. But anyone can see that she lives for her kids."
What do you think of Alex's comments?
To see more pictures of Katie and Alex, just read more.