Photos of Jordan With New Equestrian Range and Peter Andre Turning on Christmas Lights, Plus Kate's Interview With She
Pete Performs While Jordan Opens Up
While Peter Andre was busy switching on the Christmas lights in front of 2,000 fans at Merry Hill shopping centre in the West Midlands, Jordan had swapped her lingerie for some comfy clothes to launch her new range of equestrian clothing in Derby over the weekend. The couple have both been spending time defending their relationship too, with Pete rubbishing the rumours that Kate is jealous of Mel B, and Kate opening up in She magazine's December issue about their relationship. Here are the highlights: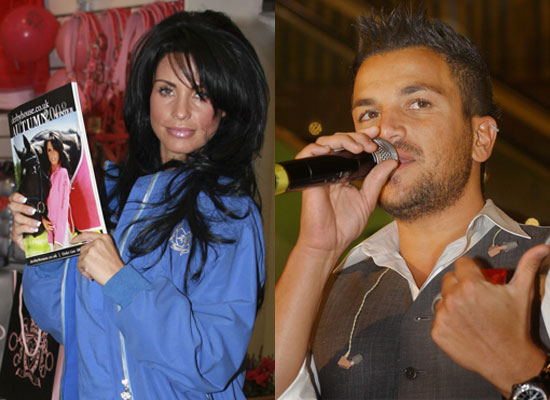 On the rumours about their relationship: "I laugh when people say we don't get on. Of course we row. But we're best friends as well as partners. I don't think we'd know what to do without each other. People think my life is all about work and partying. But my favourite times are when we're all at home sitting in front of the telly or eating dinner together. Peter and I are in love and we are best mates."
On how alike they are: "We row, we fight, we laugh, we call each other names. But we're exactly alike. We even try to match each other with what we wear. If I'm in white and he's not he'll change. I know it's ridiculous but it's just what we're like."
To see what Kate says about her plans for plastic surgery and children, and to see more pictures of Pete, just read more.
On plans for plastic surgery: "I'm having no more plastic surgery. That's it. I've got absolutely no regrets about anything I've ever had done. It's just I think I'm set now and I don't actually need anything else... I don't feel any shame about what I've had done. That's why I've always been so honest. I wanted to get my boobs done because I didn't want to be a 32B."
On having more children: "I definitely want more children and I want to look into adopting a handicapped child."
Pictures courtesy of Pete Gasowski and Dan Bozinovski/BigPicturesPhoto.com