Photos of Jordan and Peter at British Soap Awards 2009 Before Announcing Separation
After Soap Award Smiles, Jordan & Peter Argue Across Oceans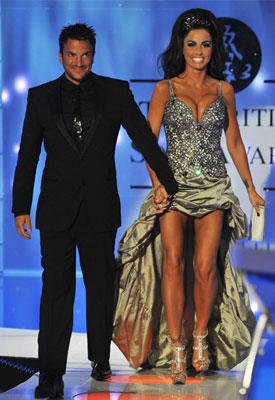 Katie Price and Peter Andre smiled as they presented the Best Onscreen Partnership Award at the British Soap Awards on Saturday, but they bickered backstage and just two days later they announced their separation. After Peter drove away from their house on Tuesday, speculation mounted that he had moved out for good as boxes were removed.
The situation might not be that extreme yet, as it's thought Peter is in Cyprus with his brothers, while Kate's in the Maldives with Junior and Princess. However, Kate reportedly raged at Peter over the phone when she discovered Harvey had been left at home with a carer. Peter is also angry with Kate for taking their two youngest children with her to the Maldives, which is where they honeymooned.
Kate's male dressage pal who was pictured partying with her has come forward to deny any romantic involvement, and Kate's spokesman has reiterated that he is just her riding instructor. Speculation about whether the separation is just a publicity stunt continues, while sources at OK! reportedly believe it is for real, but do believe they will get back together. The only official word we have so far is Kate's statement she is "devastated", and a tweet from Kate's apparent Twitter account saying: "thankyou for all your support means so much to me".
© ITV Plc and James Jenkins/David Boyes/BigPicturesPhoto.com