Photos of Jordan aka Katie Price and Alex Reid With Children at Thomas Tank Engine Premiere and Nobu, Peter Andre With Brother
Dwight Reveals All About Katie and Peter
Katie Price enjoyed a peaceful weekend, taking her children to the Thomas & Friends Hero Of The Rails premiere in Leicester Square on Saturday and then dining at Nobu Berkeley with Alex Reid in the evening. However, on Sunday the mood turned sour as the News of the World published extracts from Dwight Yorke's autobiography, Born to Score, in which he criticises Kate about her attitude to him being a part of son Harvey's life, and also reveals details about their sex life. Dwight also takes a swipe at Peter Andre, who spent sunny Sunday having lunch at Topolino Duo in Hove with his brother Mike. Here are the highlights: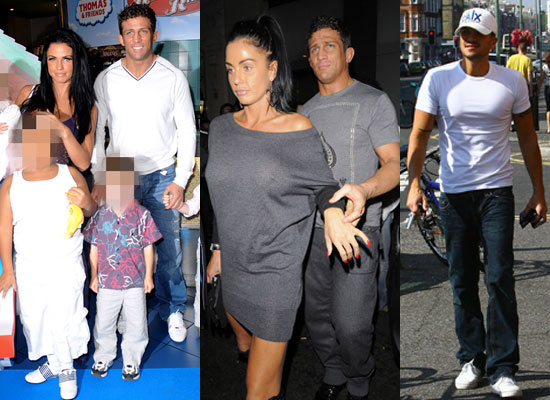 On Katie's lifestyle when Harvey was a baby: "[T]here was no sign of her party lifestyle changing to take in the responsibilities of motherhood... I challenged her about this lifestyle. She'd desperately wanted our baby but was this her idea of motherhood? It was the most distressing thing I'd ever had to deal with."
On Katie and Pete's relationship: "When I met Andre I wanted to throttle him. I'm not a violent man and it takes an awful lot to rile me. But this man got under my skin at the outset. The first time I saw them together they immediately put on this ostentatious display of affection, kissing and cuddling each other and calling one another 'Babes' and 'Precious'. Somewhere between laughable and pathetic."
On Peter adopting Harvey: "No way would I ever, EVER, allow Harvey to be adopted by him. Over the years I've heard Katie saying how Andre is Harvey's dad and what a terrible, uncaring father I've been, all of which sticks in my throat. Maybe if she hadn't made life so difficult for me, I might have been able to take a far more proactive role."
To find out what Dwight said about infidelity, proposals, and the difference between Katie and Jordan in the bedroom, and to see more pictures, just read more.
Dwight also revealed he cheated on Kate during their relationship, but then proposed to her after Harvey was born, and spoke about being intimate with Katie/Jordan:


On Katie: "Making love to Katie could be an entirely different experience to making out with Jordan. Katie was much more tender, much more loving, much softer. She'd love to cuddle up afterwards - and who wouldn't want to be snuggled up to her?"
On Jordan: "Jordan was completely different - the fireworks could be spectacular. The wilder the sex, the more Jordan seemed to like it. She was uninhibited and fiery."
What do you make of Dwight's revelations?