Photos of Jordan aka Katie Price and Alex Reid Engaged to Marry in Las Vegas and Peter Andre on This Morning and at CD Signing
Katie and Alex Plan Marriage and Babies While Peter Promotes
Katie Price and Alex Reid arrived in Las Vegas this morning as news broke the couple plan to wed this year. Back in the UK, Peter Andre was busy travelling the country to promote his new CD Unconditional Love Songs alongside his brother Mike. He also stopped by the ITV studios to cook a risotto on This Morning with Gino d'Acampo. Alex's win on Celebrity Big Brother has done him the world of good, and it looks like Pete is warming to him as he said: "I haven't seen any of CBB but I've heard that Alex has come across really well... I hope Alex is a nice guy and that he makes Kate happy". Kate and Alex sound happier than ever and have revealed their future plans for babies and marriage to OK! Here are the highlights: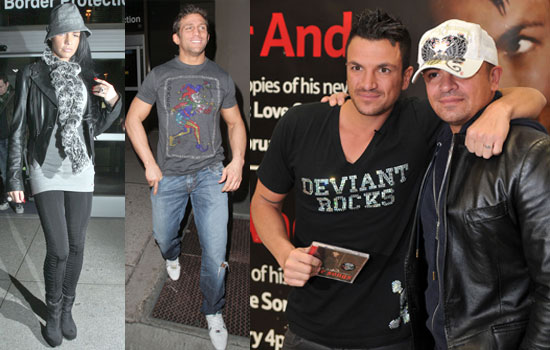 Kate on how Alex has changed her: "I wish I'd met Alex six years ago. He's perfect in every way. He's a proper gentleman…Every man I've been with, I'd never buy a house with them, never buy a car with them. But I said to Alex, forget my house, we should buy a house together."
Kate on their future: "I'm going to downsize so we can both afford it. We'll have our joint account, whatever we earn together will go in one pot and everything will be paid out of that. It will be completely equal. So there's no egos, who earns the most. I've never done that with a guy and that's what I'm doing with Alex."
Alex on wanting to be with Kate forever: "I need Katie. I don't need her for fame but I need her. It has been a fantastic start to the New Year and it's going to be even more fantastic now this is happening. I actually asked Katie to marry me after my fight in September, so it's something we've been discussing for some time."
Kate on whether they'll get married: "Yes. This year I will marry Alex and I'm going to have his kids…I'll change [my name on] my passport, cheque book, everything. I want to be traditional, the way marriage is meant to be"
What do you think of Kate and Alex's plans for the future?
To see more pictures of Katie, Alex and Peter, just read more.