Photos of Jordan aka Katie Price and Alex Reid at Gatwick Airport as Rumours Suggest She's Pregnant, Alex Gives First Interview
Katie Denies Pregnancy Rumours as Alex Speaks of His Love
Katie Price arrived back at Gatwick Airport yesterday kitted out in her riding gear, holding hands with Alex Reid. While the couple spent the weekend in Spain, allegations Alex was starring in a porn film surfaced, and now there are rumours Kate is pregnant and getting married, which she has already denied on Twitter. Kate's also defended kissing Alex in front of her children, writing in her OK! column: "I don't know why people made such a big deal about me spending such a beautiful day in the park with Alex, the kids, mum and friends. Madonna and Kate Moss snog their men in front of their kids and aren't criticised for it – it's not like I'm with a different guy every week, I'm in a relationship!" She added that, having watched Peter Andre's documentary, "he didn't seem to be in the right state of mind to film". Pete's certainly not in a great state of mind at the moment, telling New! magazine: "I've had a couple of really bad days in the last week or so". New! has also interviewed Alex — here are the highlights: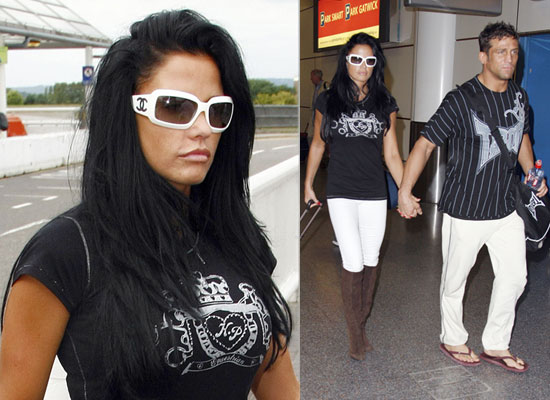 On children: "I love kids. And I'm really happy with Katie's family situation. I love everything about Katie. When we were in the park the other day – me and the kids – that wasn't contrived and we just wanted to get rid of the photographers. We just want to be a normal couple."
On marriage: "We want to grow together. I'm living every moment and enjoy what's going on right now, and who knows what the future holds? I mean, we really get on. Amazing. Who knows? The way we're going, the world's our oyster. I hope we do have a future! I don't want to add any fuel to the fire by saying we are getting married, but I'm enjoying every minute. I hope we have a good, long future together."
On love: "I have told her I love her pretty much every day since we met. And about 50 million times a day. I've never felt like this. Ever. And I've never felt more comfortable and ready for this relationship."
On bickering: "What couples don't bicker? Forget about the fame and celebrity bulls**t. We're just a man and a woman and of course we're going to bicker. But we get on much more than we bicker. In terms of bickering, there might be a bit of, 'You look good in this, you don't look good in that.' But that's it."
To read what Alex said about the Katie/Jordan divide plus their plans for the future, and to see more pictures of Kate and Alex at the airport, just read more.


On Jordan vs Katie: "I love everything about her – the good, the bad and the ugly. To be honest, there's no difference between Katie and Jordan. I see her as one person. There is a private person and a work-mode person, but I see them as one person, although I can see a subtle change. I love them both."
On suggestions he's with Kate for the money: "I've been doing acting, modelling, fighting all my adult life. I wasn't even aware of how much being with Katie could help me. And it has. I understand that my stock's gone up. But the last thing I want to be is "Katie Price's boyfriend Alex Reid". I can't look a gift horse in the mouth, as because of my relationship with Katie, a lot more doors are going to open. But I'm going to show them that I'm a good guy and I've got my own aspirations and ambitions, and will achieve it all on my own."
On future plans: "Katie and I are going to do lots of fun stuff together. We're both adventurous and there's so much to do on this planet. Later this year, we're both doing the New York marathon together. Katie's done a marathon before, but I haven't. I'm doing that with her. But then I'm going to show her things she hasn't seen before. I'd love to take her to do kung fu in the beautiful mountains of Wudang in China."
What do you think of Alex's interview?