Photos of Jordan aka Katie Price in Bikini on Boat With Anthony Lowther in Ibiza, With a Cross Over Her Tattoo of Peter's Name
Katie Crosses Peter Off Her Wrist But He Still Loves Her
Katie Price spent her last days in Ibiza surrounded by men on a boat, looking lovingly at one in particular: Anthony Lowther. She's shown her desire to remove Peter Andre from her life by paying £85 at a tattoo parlour to have an X struck through his name on her wrist. Kate also twittered: "loving ibiza cant wait to see my children when there back from cyprus ! pete being a true c*** to me ! he left me nt me leave him". Meanwhile, Peter has taken the opposite approach, and written: "I still love Kate. If you get over someone in five weeks you obviously didn't love them in the first place". Peter also used his New! column to set a few things straight, dismissing claims that he was involved with the actress he accompanied to the IIFA Awards. He also wrote about the moment his mum arrived in Cyprus, saying: "It means so much to me that she'd travel so far to see me at this time". He added: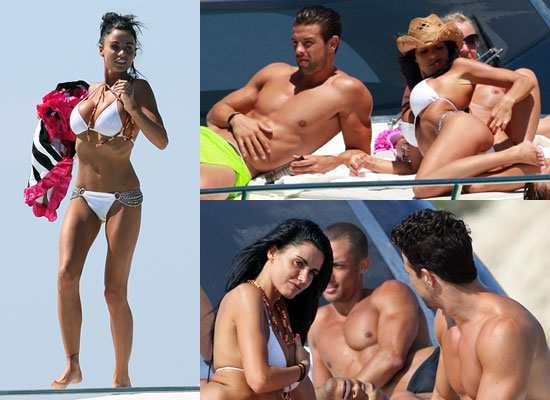 "I know everyone is waiting for me to comment on all the stories in the papers regarding me and Kate, but I honestly can't read any of them because I know it will only cause me pain. I just don't want to put myself through it. There are only three people in the world that are my priority at the moment and that's the kids. I can't spend my time dwelling on things that are going to make me feel rubbish."
At least Peter's got some good news: he's been voted Best Celebrity Dad in a MySpace poll, beating David Beckham and Jamie Oliver. Kate, however, might lose up to £3million if endorsement deals for her lingerie and bed linen lines are removed after her partying antics.
Lots more pictures of Kate and friends on the boat, so just read more.