Photos of Jordan aka Katie Price and Cage Fighter Possible New Boyfriend Alex Reid
Katie Price Takes Rumoured New Boyfriend to Work
Katie Price wore riding gear as she filmed an advert in Surrey yesterday, and was joined on set by her potential new love interest Alex Reid. Kate's speaking out about a number of things in magazine interviews this week, telling OK! Peter dumped her by phone, telling Love It! she's obsessed with serial killers, and telling More! she's booked a second breast reduction in LA. She is also considering turning her life story into a film and would like Julia Roberts to play her, as she had curly hair! More rumours are circulating about Kate's love life too, with suggestions she's been chasing Alex for a year. Peter commented: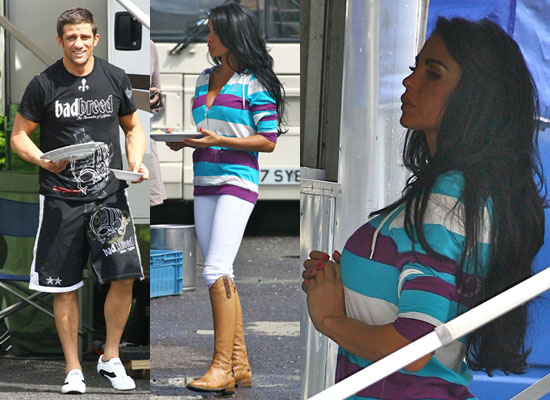 "There are also reports that Kate is dating cage fighter Alex Reid, or "The Reidernator", and that he has been staying the night at her house and borrowing my clothes. Yawn! To be honest, I don't really care if this is true or not. I'm so over it. I may well have left clothes back at the old house, but what Kate does with them is up to her. Nothing fazes me any more and all I'll say is that the way she behaves is very different from the way I'd ever behave, but it's up to her what she does with her life these days."
Do you believe Pete's not interested in Kate's love life anymore?
To see more pictures of Kate and Alex, just read more.