Photos of Jordan aka Katie Price in Gold Bikini and Pink Mesh in Ibiza With Anthony Lowther
Katie's Concerned About Custody While Peter Weeps
Katie Price spent the weekend shopping, and partying in Ibiza until 10am, in various crazy outfits. She has now reportedly realised that her raucous behaviour might affect her custody claims in the divorce settlement. Kate reportedly used a phrase made famous by Princess Diana to explain Peter's manager's role in her divorce, saying: "There were three of us in this marriage — me, Peter and Claire", to which Peter apparently responded: "there were three of us in our marriage — me, Kate... and Jordan". The situation is becoming too much to bear for Peter, who cried in his mother's arms when she arrived in Cyprus. Anthony Lowther, the model Kate has been busy partying with, has spoken out again about their relationship, saying: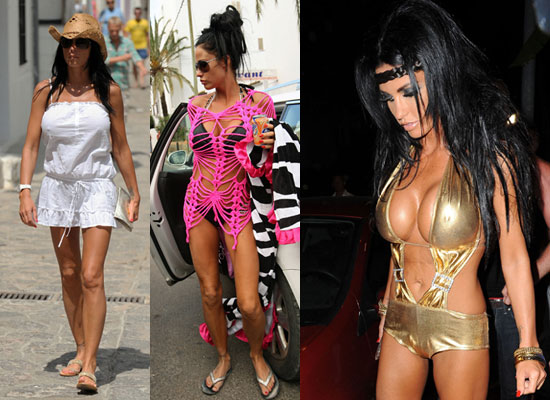 "We're having a great time together. Jordan is a really nice girl and very sexy. We're being called boyfriend and girlfriend and it's a bit scary. We're just having a bit of fun while we are on holiday out here together. I really enjoy her company and we get along brilliantly."
She's been Jordan whilst in Ibiza, but now she's heading home and has been named patron of The Duke of Essex Polo Trophy, perhaps Katie Price will rear her head again.
Loads more pictures of Kate in her crazy outfits, so just read more.
WENN.com and David Boyes/Dan Bozinovski/BigPicturesPhoto.com