Photos of Jordan aka Katie Price at Heathrow Airport, Jordan Responds to Pregnancy Rumours
Katie Has a Big Surprise to Reveal as She Flies Away
Katie Price brought a pop of colour to her dark outfit with her bright pink nails as she flew from Heathrow to LA yesterday. While rumours fly about her possible return to I'm A Celebrity, Kate's taken to her OK! magazine column to respond to suggestions she's pregnant. She also raved about what fun she had at a Halloween party, gave an update on Harvey following his hospitalisation last week, and revealed her opinion on Gordon Ramsay. Here are the highlights: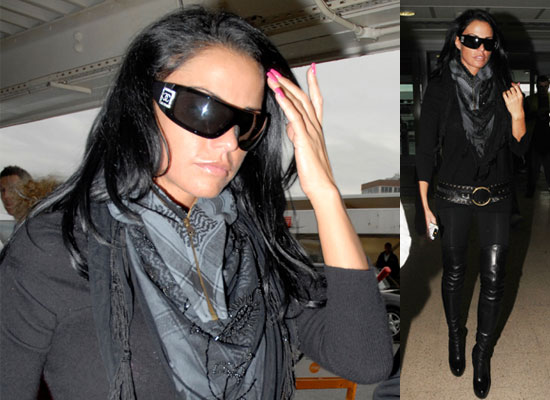 On Harvey: "Harvey wasn't too well this week and had to spend the night in hospital but he's absolutely fine now. He has been sent lots of get well wishes from the public, so thanks to everyone for that."
On pregnancy rumours: "Last week I told OK! that I have a big surprise in store and there is already gossip that I'm pregnant. Well, let them speculate what they like. All I'll say is never underestimate the Pricey. They can say I'm pregnant, they can say what they like. It will all be revealed before the New Year."
On her appearance on The F Word: "Gordon Ramsay is a really nice guy and completely down to earth like me. I knew I wouldn't beat him at the recipe challenge, I only practised the chicken kiev recipe the night before. He beat me 5-0 and I think that was about right."
On her future products and shows: "I'm really thrilled to be doing some smellings for my new as-yet unnamed perfume which will be out next year – and I'm currently designing some new eyelashes which will be hitting the shops soon. I start filming my new reality show soon so expect plenty of thrills, spills, laughs and Pricey pandemonium."
What do you think Kate's "big surprise" will be?