Photos of Jordan aka Katie Price at Horse Stables in Brighton
Katie's Back in Britain Defending Her Partying
Katie Price has returned home from her week in Ibiza and wasted no time getting back to her horses as she visited her stables near Brighton earlier today. She's been criticised by a children's charity for setting a bad influence to youngsters after twittering a foul-mouthed tirade at Peter. Kate's wasted no time in defending her partying antics during her stay in Ibiza, and has written about her working holiday in her OK! column: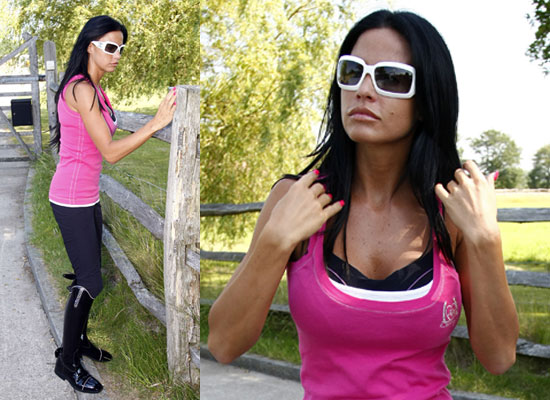 "I've had a great time in Ibiza and people can slate me all they like - I work hard, I'm a good mum, I'm a young woman and I'm going through a split. There's nothing wrong with going away and having a good time for a week after all I've been through."
She also confirmed that she's been working on a new ITV2 show, saying: "you will see a happier side of me. It will just be me working and going about my life and will be out in September". Will you be tuning in to her show?