Photos of Jordan aka Katie Price on Horseback and Peter Andre With Junior Arriving at Heathrow Airport
Katie Rides High as Peter Touches Down
Peter Andre arrived back at Heathrow Airport yesterday with Junior in his arms, after their family holiday in Cyprus with Harvey and Princess. While Kate's had a cross tattooed over Peter's name on her wrist, Peter's still got his Katie tattoo on his finger. Kate headed to the stables again this morning, having visited her horses yesterday, and has donated prizes to equine charity HorseWorld's sponsored ride. The bookies think any chance of a reconciliation now is pretty slim, slashing their odds from 2/1 to 10/1. The cameras are now following the couple for their separate TV shows, which Pete has written about in his New column: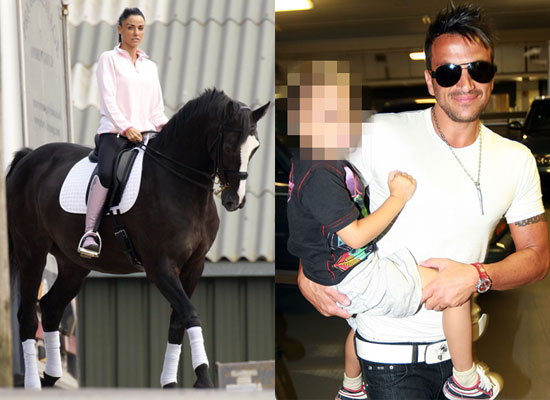 "When I went to Macau, we started filming again for my reality show, and I'm glad because it was so exciting over there and you'll all get to see it. I'm not being filmed this week as I'm spending quality time with the kids, but I will have a film crew following me again when I get back."
Are you more interested in watching Peter's reality show, or Katie's?
To see more pictures of Katie and Peter, just read more.