Photos of Jordan aka Katie Price on Live From Studio Five and Peter Andre Meeting Mel B and at Album Launch
Katie Claims Peter Has a Girlfriend as He Meets an Old Flame
Katie Price appeared on Live From Studio Five last night to give her first TV interview since her and Peter Andre were granted a decree nisi, and today Kate revealed in OK! magazine the man who raped her is a celebrity. Peter launched his new album at Valbonne yesterday, after opening a shop at Westfield and meeting up with his former flame, Melanie Brown, and her husband Stephen Belafonte. Kate is continuing to claim Pete has a new girlfriend, but Pete responded today by tweeting: "I have no girlfriend". It has just been announced that Peter will give his side on Live From Studio Five tonight. During her TV interview Kate also spoke about why Peter dumped her, and about new boyfriend Alex Reid. Here are highlights: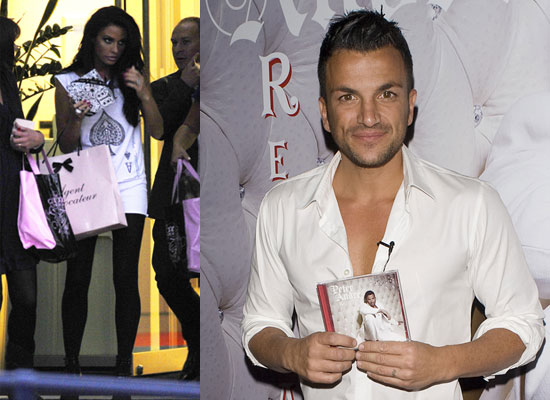 On Peter's new woman: "Actually last night he dropped the kids of with a girl in his car, Junior doesn't know the name of her, doesn't know who she is and they kissed on the lips, so it must be his girlfriend."
On her reputation as cold: "I did cry within the marriage, but you know, like I say if he doesn't want to know I'm not going to beg. I have tried to meet him, I have tried to talk to him and he doesn't want to know so what am going to do, sit around and, you know."
On the reasons Pete dumped her: "Well it's the most stupidish reasons ever and I hope when it goes to court and the reasons come out, people will see what Pete is saying… so it's his loss at the end of the day... it's so stupid, but put it this way I can now ride my horses without having grief, there's a hint."
To find out what Katie said about Alex, and to see Peter with Mel B, just read more.


On new boyfriend Alex: "He's so laid back, so laid back. This is the thing people think he's probably so aggressive but believe me I push him and he's just so laid back and chilled, he's a really nice guy."
On whether it was love at first sight with Alex: "You mean am I in love, you want to know? This isn't the Kate and Peter show anymore I'm going to keep some things private... I know he's in the show and I did say I didn't want to put him in the show that much because I don't want to have me and Pete, keep it a bit private. I don't care about me I'm an open book."
Kate also said she won't reunite with Peter, so it looks like their divorce is final.