Photos of Jordan aka Katie Price Partying in London and Peter Andre at International Indian Film Academy Awards in China
Katie Keeps It Local While Peter Celebrates Bollywood in China
Katie Price and Peter Andre were on opposite sides of the world yesterday, as it was revealed that they tried marriage counselling in a bid to save their relationship. Kate, who has bought a new horse, was in London, wearing a cheeky t shirt for a meeting and then changing into an animal print dress for a night out at Nobu, never missing an opportunity for self-promotion. Meanwhile, Peter was in China for the International Indian Film Academy Awards. Known as the Bollywood Oscars, Peter will present an award at the ceremony and joked about moving in to Indian cinema. He spoke about how he's coping with the split, saying: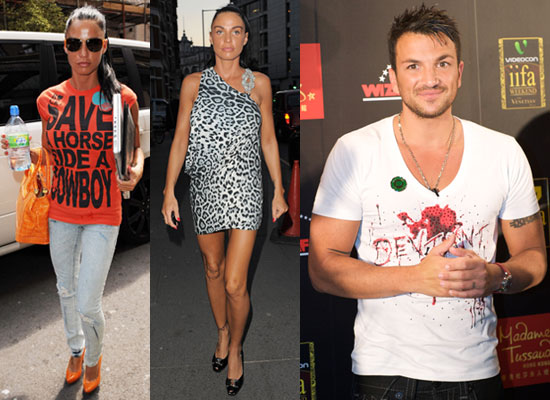 "The past four weeks have been the worst of my life. It was hell. No matter what happens, you never stop loving someone. Initially I couldn't even have thought about work – my head was everywhere. It still is everywhere. But it's been a month now and I know I've got to start pulling myself together. The response I've had since being in China has been absolutely amazing. This, and the work I am doing now, is beginning to give me confidence again. Singing has given me something to focus on. I never expected the attention I've been getting and I am so glad this is happening. I've only been here a couple of days but it's already turned out better than I ever hoped. Finally, I am beginning to smile again. It's not like I'm a bundle of joy now, but it's getting better. I'm even cracking terrible jokes!"
It's good to see Kate and Peter focusing on their passions to help deal with their separation.
Loads more pictures of Peter and Katie, so just read more.