Photos of Jordan aka Katie Price and Peter Andre Meeting Face to Face For the First Time Since Separation
Katie and Peter Fall Out Face to Face
Katie Price and Peter Andre have been photographed together for the first time since they announced their separation seven weeks ago. Kate dropped off Junior and Princess at Peter's house, and they reportedly had an argument, with Peter allegedly banning Kate from Princess's party this weekend. Kate cooled off with a kick boxing session and a trip to her stables, while Peter took the kids to Brighton beach to celebrate Princess's second birthday. Not to be outdone by Peter's trip to Toys R Us, Kate also loaded up a trolley of toys at the superstore. They have both taken to their magazine columns to make their thoughts known, with Kate denying any romance with Anthony Lowther and saying: "Jordan isn't back! I'm Katie Price - Pete was away with he kids and I was in Ibiza to film my show and shoot my calendar and I went out a few times - but so what?" Pete has written about Kate's behaviour, saying: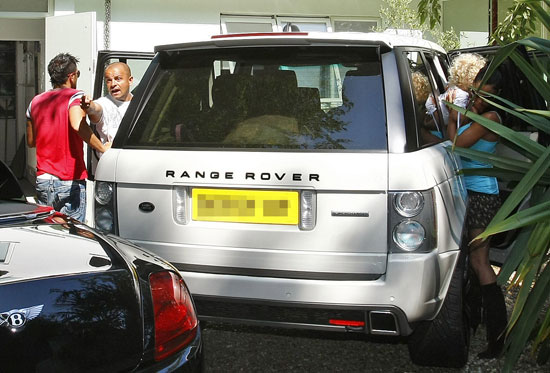 "When I was in Cyprus, I managed to shield myself from most of Kate's Ibiza antics, but I got a very nasty shock on my return when I saw what she'd been getting up to. I thought she was a disgrace and I was actually speechless when I found out. As soon as I saw what has been going on, I had to call Kate directly and give her a piece of my mind because her actions are out of control. I told her exactly what I think of her and although it was supposed to be a private conversation, knowing Kate like I do, I wouldn't be surprised if she got her film crew to capture the conversation on camera – so I end up looking like the bad guy."
It looks like they're continuing to struggle to keep the divorce civil.
To see more pictures of Katie, Peter and the kids, just read more.
Dan Bozinovski/Rob Morrison/Nick Banks/BigPicturesPhoto.com and WENN.com