Photos of Jordan aka Katie Price Visiting Her Divorce Lawyer and Horse Riding Before Appearing on Jonathan Ross
Katie Canters Ahead of Jonathan Ross Chat
UPDATE: Kate has pulled out of her appearance on Friday Night with Jonathan Ross.
Katie Price spent the Bank Holiday horse riding in Buckinghamshire, spending time with horse instructor Andrew Gould, and cooking a roast. Although she started the long weekend meeting her divorce lawyer, Fiona Shakleton, reports state Kate has been pleading with Pete for another chance, but he remains set on a divorce and giving us updates via his New! column. Kate continues to use her Twitter account to confirm she hasn't done any interviews, denying the quotes in OK! and tweeting comments like: "i swear on my life i have done no exclusive interviews or comments neither have my friends to any mag or paper". However, all that will all change when she talks about the separation on Friday Night with Jonathan Ross this Friday. We'll finally hear one side of the story straight from the horse's mouth: will you tune in?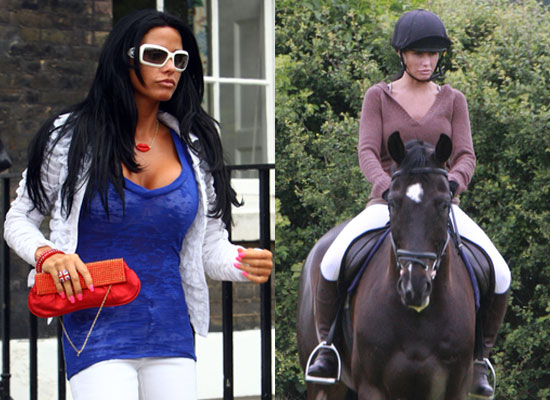 To see what Peter wrote in his column, plus more pictures of Kate horse riding, just read more.
In his New! column this week, Peter wrote:
"I know everybody wants me to spill the beans but it is not something I will ever talk about. I've spent the last week in Cyprus in my own little bubble feeling like a zombie. My head's in a mess. I couldn't even face answering the phone to friends... I had a meeting with my lawyers last week and when I put on my suit it was hanging off me. I had it made for the Oscars a couple of months ago and it fitted like a glove. I hadn't really noticed how much I've shrunk but it makes sense as I've had practically no appetite recently."
Peter also wrote about his children:
"I hadn't seen the kids for over a week and it was hell. I missed them so much it actually made me ache inside. I spoke to them every day on the phone, but it's not the same as seeing them in person and giving them hugs and kisses. I couldn't wait to get hold of them and savour every minute. I was totally gutted that I didn't get to read them their bedtime stories but we did lots of fun stuff together, like go to the beach and the local pond to feed the ducks... I'm having a rough time, but they [the children] are a glimmer of sunshine in my life and always will be."
What do you think of Peter's comments?