Photos of Jordan aka Katie Price Who Has Confirmed She Is in a Relationship With New Boyfriend Alex Reid
Katie Confirms She Is Seeing Cage Fighter Alex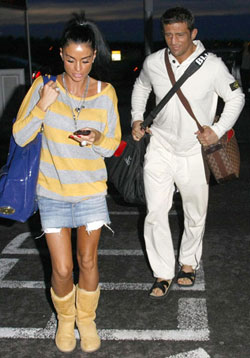 Katie Price has finally confirmed she is seeing Alex Reid. Rumours started over a week ago that Kate was dating the cage fighter, but the relationship was initally denied. Now in her OK! column, Kate confirms their friendship developed at fight school, and says:
"Everyone I get photographed with at the moment I'm supposedly sleeping with! But I can confirm I'm seeing Alex Reid and no one else. I wasn't seeing him or texting him while I was with Pete. I didn't know him then - I've only been going to the fight school since the break-up. That's all I'm saying about him for now."
Having spent time together over the last week, the new couple are now on holiday in Spain.