Photos of Jordan aka Katie Price Who Has Revealed the Identity of Her Rapist on Camera, Named Rapist in Front of TV Crew
Katie Price Reveals Rapist's Name On Camera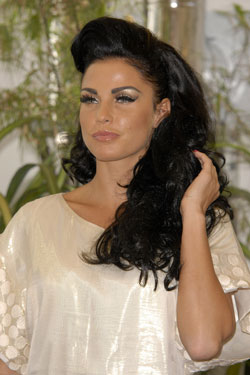 While filming her new TV show yesterday, Katie Price reportedly revealed on camera the name of the celebrity who raped her. Lawyers banned his identity from being broadcast, and the production team was sworn to secrecy. With anti-abuse campaigners asking Kate to come forward with information, a "friend" has revealed that Kate did not go to the police after her ordeal because she was too scared of her attacker. The Mirror is claiming it knows the identity of the man, and he has denied the claims, but they cannot name him for legal reasons.
Kate phoned Matthew Wright during The Wright Stuff yesterday to respond to the panel's discussion about her. It was on this series that Matthew accidentally named John Leslie as the man Ulrika Jonsson referred to when she spoke about being raped. Kate said:
"I haven't just come out and said I got raped, I was actually sticking up for Alex. It come out in the newspapers that he was doing this rape thing and I stuck up for him in my OK column. I would never do something like that for sympathy. It has all got out of context, I think it is really out of order to say I would do it for sympathy I would never do that."
To see what Kate said about going to the police, read more.
When asked about going to the police, Kate said:
"It happened absolutely years ago and like anyone, it's just a hard thing to do. It's been done now, what do you do? I would say if something happens you should go to the police. It was definitely rape - I didn't consent to it."
Kate responded to Matthew's question about whether she would name her attacker by saying: "Never, never, absolutely not". Now that she has allegedly said the man's name on camera, however, it seems likely it's only a matter of time before his identity is revealed.