Photos of Jordan aka Katie Price Who Has Revealed She Was Raped When Younger and Denies Alex Reid Filmed Rape Scene
Katie Price Reveals She Was Raped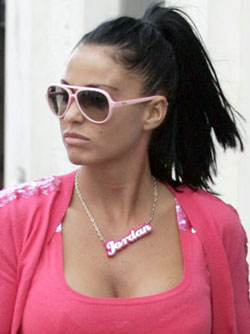 Katie Price has revealed that she was raped more than once when she was younger. She opened up about her past to OK! magazine in response to rumours that her boyfriend Alex Reid had filmed a scene for a movie which reportedly involved rape. She said:
"I was appalled by the headlines claiming he's [Alex] taken part in something which glorifies rape. This is completely untrue. Rape is a subject very close to my own heart. I was raped when I was younger, more than once. Needless to say, I'd never be associated with anything or anyone so sick."
Kate added:
"I've never talked about this before, but I feel I have to now because I was so hurt by these accusations that I would not take a subject, which affects so many women, seriously. Someone who was close to Alex was also raped and he is as horrified as I am by these claims. I urge any woman who has been affected by rape and needs help to talk to somebody they trust about it."