Photos of Jude Law, Aaron Johnson, Sam Taylor-Wood, Rupert Grint, Christoph Waltz at Empire Awards Plus Full List of Winners
Jude and Aaron Are Among the Empire Award Winners
Stars of the big screen gathered at the Grosvenor House Hotel in London for the Empire Film Awards tonight. Avatar was the big winner, with three awards for Best Director, Best Actress and Best Film, while Aaron Johnson took time out from promoting Kick-Ass to collect his Best Newcomer Award, having posed with fiancée Sam Taylor-Wood on the red carpet. Sherlock Holmes won Best Thriller, and Jude Law was back in the UK after his Paris work trip to be presented with his Empire Hero Award by Gwyneth Paltrow.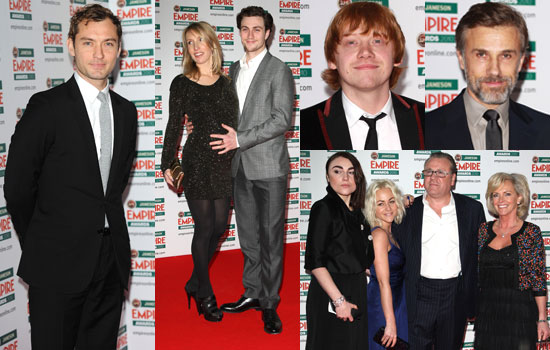 Christoph Waltz collected his Best Actor Award, beating Robert Pattinson, Ian McKellen was there to be crowned Empire Icon and Ray Winstone's family watched as he was awarded for his Outstanding Contribution to British Film. Rupert Grint, Sarah Harding and many more stars also came out for the awards ceremony: check out all the photos after the jump.
To see the full list of winners plus LOADS more pictures, just read more.
Jameson Empire Awards 2010 Winners
BEST NEWCOMER
Aaron Johnson (Nowhere Boy)
BEST THRILLER
Sherlock Holmes
BEST HORROR
Let The Right One In
BEST COMEDY
In The Loop
BEST SCI-FI / FANTASY
Star Trek
BEST ACTOR
Christoph Waltz (Inglourious Basterds)
BEST ACTRESS
Zoe Saldana (Avatar)
BEST DIRECTOR
James Cameron (Avatar)
BEST BRITISH FILM
Harry Brown
BEST FILM
Avatar
DONE IN 60 SECONDS
Top Gun Mark Wong
OUTSTANDING CONTRIBUTION TO BRITISH FILM
Ray Winstone
EMPIRE ICON
Ian McKellen
EMPIRE HERO
Jude Law
Images include: Jude Law, Aaron Johnson, Sam Taylor-Wood, Rupert Grint, Christoph Waltz, Sarah Harding, Jaime Winstone, Lois Winstone, Ray Winstone, Sir Ian McKellen, Gina McKee, Olivia Wilde, Andy Serkis, Mark Strong, Michelle Ryan, Ian Hislop, Simon Pegg, Patrick Stewart, Jane Goldman, Matthew Vaughn, Johnny Vegas, Chloe Moretz