Photos Of Justin Timberlake, Dizzee Rascal and VV Brown At Selfridges, London Promoting William Rast.
Justin Talks Michael Jackson, Jeans and Jessica
Justin Timberlake was at Selfridges in London yesterday showing off his new range of clothes for his fashion line William Rast, which he runs with his buddy Trace Ayala. He posed with celeb fans Dizzee Rascal and VV Brown for photographers, sharing some big laughs with Dizzee, and also took to the catwalk with the models. Later in the evening he celebrated at Guy Ritchie's pub and celeb haunt The Punchbowl. While launching the clothing line, Justin talked about his girlfriend Jessica Biel and how she wears out the jeans from his label through so much use, good job she has a great connection! He also discussed the influence the late Michael Jackson had on him, saying: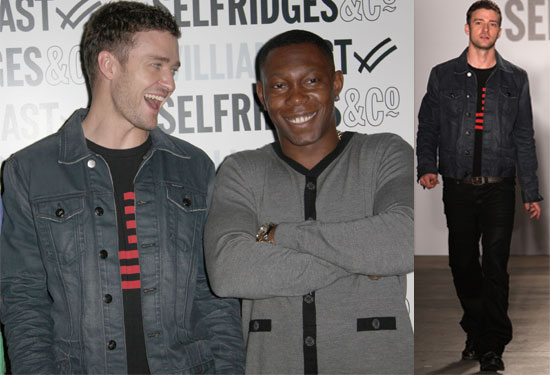 "Michael was a huge influence. There's something about Michael and his presentation of his music that I think influenced the world. It opened the minds of the world. I don't think anyone could present a song better than he could. I think there's a million songs that have been written over time that are amazing works of art, but there's something about Michael's stage presence that will never, ever, ever be duplicated."
To see more photos of Justin, Dizzee, VV and Trace, just read more.