Photos of Kanye West, Jared Leto, Chase Crawford, Mischa Barton, Daisy Lowe and Milla Jovovich at New York Fashion Week
Gorgeous Guys Join Front Row Beauties at NY Fashion Week
Bryant Park was the place to be over the weekend, with dozens of celebrities descending on the shows of New York Fashion Week. Usual suspects Mischa Barton, Milla Jovovich, Sarah Jessica Parker and Roisin Murphy took their places in the front row, while Fashion Week devotee Kanye West had some male company for a change at the Calvin Klein Menswear show, sitting alongside the gorgeous Jared Leto and Chace Crawford. Faces from our side of the pond enjoyed the Lacoste show: we'll no doubt see Will Cameron, Lily Collins and Dasiy Lowe back in the UK for London Fashion Week on Friday. My girl Fab UK has the lowdown on the catwalk clothes and Bella UK wants to know which makeup look is most wearable.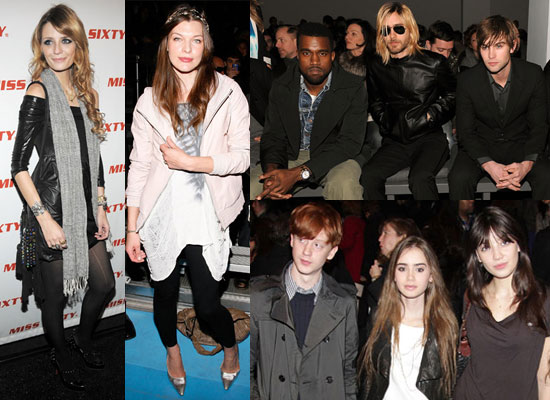 Fab US and Bella US are reporting live from the tents, so check out all their gossip.
To see loads more pictures of the stars in the front row, including Jennifer Love Hewitt, Kellie Pickler, Heidi Klum, Lucy Liu, Hilary Duff, Roisin Murphy, Katherine McPhee, Kristen Bell, Rufus Wainwright, Julia Stiles, Anna Wintour and Sarah Jessica Parker, just read more.
Images include: Jennifer Love Hewitt, Kellie Pickler, Will Cameron, Lily Collins, Dasiy Lowe, Harley Viera Newton, Heidi Klum, Michelle Trachtenberg, Lucy Liu, Hilary Duff, Donna Karan, Kanye West, Roisin Murphy, Alison Brie, Brittany Snow, Katherine McPhee, Kristen Bell, Rufus Wainwright, Milla Jovovich, Julia Stiles, Jared Leto, Chase Crawford, Patrick Wilson, Coco Rocha, Mischa Barton, Minka Kelly, Anna Wintour, Sarah Jessica Parker